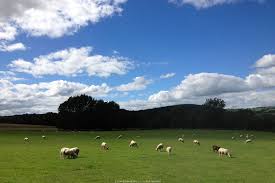 In late May Hay held its festival. I've always been sceptical of this event. Reflecting on it, I realise that this is partly to do with my dislike of cultural agglomerations. I like (some) books, one at a time. I don't like libraries, or bookshops, which overwhelm and distract with their bookishness – a quality that has nothing to do with any one book worth reading, and the absence of which I like in e-readers. I like talking to academics and writers, one at a time. But en masse their common denominator – culturedness – can also distract. Agglomerations of both books and bookish people, the 'Welsh' 'village' of Hay-on-Wye has visited on itself for the last several decades. Cannot – I thought – these bookish people have the decency to confine their agglomerations to cities, which are the proper homes of such agglomerations, and where their spirits must mix with the beer and other liquids which slosh about any city (a good reason for belonging to a city university)? Wordsworth had it right, I thought, in cutting out the people from his 'Lines Written A Few Miles Above Tintern Abbey on Revisiting the Banks of the Wye During a Tour, July 13, 1798'; one way of repaying nature for what industrialisation had done to the Hay Valley was to ignore it. Lines could be written above Hay, now, as innocent as the sheep of the debates which are throbbing beneath them.
Still, this year I went to the Hay-on-Wye Festival, because I was invited to speak by my college, New College of the Humanities, at HowTheLightGetsIn – an adjunct to the main festival run for the last five years by the Institute of Arts and Ideas. Its tents are not, like those of the main encampment, perched half way up towards the sheep, but sit on the banks of the Wye, watching it flow down to Tintern and the sea. Arriving in a mood to revolt from the combination of the twee and the knowing, the rural and the urbane, I found myself pretty quickly softened. My friends and colleagues met me. Hay has beautiful stone houses. The Wye is a lovely, earnest river, going happily about its hill draining business. The tourists are, as it turns out, to be spoken with as individuals, over tea or wine if you can afford them. I saw a decade-old film about the Chinese avant-garde, heard a discussion of the sublime which occasionally pointed straight at it, and gave my own talks on (severally) sex, torture, and unreliability, before deciding that I had not had such a bad time after all.
Just before returning to England and the city, I was asked by one of my students to recite the opening and ending of Wordsworth's 'Lines' to accompany his footage of the area, for a video for the College website.
As I read this poem of revisitation, I recalled my two previous visits to Hay, off-season. The first was with my parents when I was going through the eighteen-year-old's craze for Aldous Huxley with particular vigour, and hunted through the bookshops for his nonfiction. The second was with a boyfriend, with whom I went looking for Offa's Dyke, and realised after long and fruitless searches that we had been walking along it all along. I also thought of Tintern, which I have visited with a friend, and which Wordsworth – unlike many of his eighteenth century poetic predecessors, who wrote poems on the Abbey – didn't try to touch. But there it stands, at the horizon of the poem's mind and eye. What was an agglomeration of culture in the countryside, a centre of thought and praise, was ruined, and is now open to the sheep. The poem which never mentions it is the most famous poem concerning it. And so it stands in our culture still.