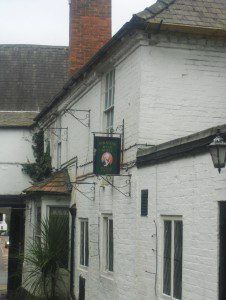 Recently my family and I visited Southwell. This pleasant North Nottinghamshire Cathedral town, stabilised into the picturesque by relative wealth and the heritage industry, is an obvious excursion from my parents' town of Grantham. So we packed into a motor-car and went. We had tea at the Saracen's Head. We visited the Minster. I bought a jumper from a shop on the street between the two. The surface of my life ran smooth.
But beneath the surface history danced. I thought of the kings who have stayed in the then-King's Head – Richard I, John, Richard II, Edward IV, James VI on his way to become James I, Charles I on his indirect route to loose his head. In May 1647 he reached there from Oxford on an attempted escape North, but after one night was forced to surrender to the Scottish Commissioners. The Parliamentarians treated Southwell roughly. In 1651 its inn was renamed the Saracen's Head. Byron visited it often.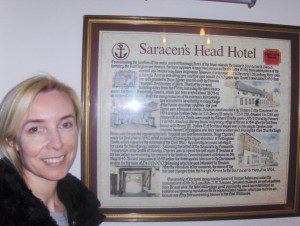 But it wasn't so much any of these people that I cared about as D.H. Lawrence, who visited Southwell when he was twenty-five in 1911, and wrote it into The Rainbow, of 1915, and Women in Love, of 1919. Although he shows no concern for its Civil War past beyond marking his 1911 letter 'Southwell, The [Episcopal] Palace Ruins', his fiction treats it dominantly in its historical dimension, as marking psychological change between centuries, generations, and periods of someone's life.
The Rainbow's Will Brangwen is what Larkin would call 'randy for antique', and especially for its medieval variants in serious houses on serious earth. As a twenty-year-old 'He talked of Gothic and Renaissance and Perpendicular, and Early English and Norman. The words thrilled her' – Anna Brangwen, his cousin and future wife. 'Have you been to Southwell?' he said. 'I was there at twelve o'clock at midday, eating my lunch in the churchyard. And the bells played a hymn.' He continues: 'Ay, it's a fine Minster, Southwell, heavy. It's got heavy, round arches, rather low, on thick pillars. It's grand, the way those arches travel forward. […] He was very much excited and filled with himself that afternoon. A flame kindled round him, making his experience passionate and glowing, burningly real.' [See, for example, the photograph of the nave on p. 89 Peter Marlow's wonderful The English Cathedral]. After marrying, the couple visits Southwell among other English Cathedrals. Later their daughter Ursula 'saved her money and bought a bicycle, and […] rode to Lincoln, to Southwell, and into Derbyshire.' She 'wanted to live in Willey Green on the remoter side, towards Southwell, and Sherwood Forest. There it was so lovely and romantic.'
Southwell and Sherwood eventually serve a very lovely and romantic function in her life – but one as different to that of her childish conception as Women in Love is to what one might expect of a novel with such a title. When in her later twenties and a schoolmistress, a schools inspector called Rupert Birkin invites her on an excursion.
This is described in a chapter called 'Excurse' – possibly reviving a term last used in this way in the sixteenth century (when most of the extant Saracen's Head was built) to mean 'an ambush, a raid, a mad sally'. Their excursion is in various ways all these things, and also involves an disputational 'Excursus' between them about Birkin's most recent lover.
The Excurse starts badly. Birkin is near despair. 'His life now seemed so reduced, that he hardly cared any more. At moments it seemed to him he did not care a straw whether Ursula or Hermione or anybody else existed or did not exist. Why bother! Why strive for a coherent, satisfied life? Why not drift on in a series of accidents – like a picaresque novel? Why not? Why bother about human relationships? Why take them seriously – male or female? Why form any serious connections at all? Why not be casual, drifting along, taking all for what it was worth? And yet, still, he was damned and doomed to the old effort at serious living.'
The last point is a typical Lawrencian motion of feeling. We see it in his poem 'The Battle of Life':
Is life strife, is it the long combat?
Yes, it is true, I fight all the time.
I am forced to.
Yet I am not interested in fight, in strife, in combat,
I am only involved.
Because he is involved, he invites Ursula out, and drives she cares not where. After the blistering argument which almost wrecks the trip, they 'dropped down a long hill in the dusk, and suddenly Ursula recognised on her right hand, below in the hollow, the form of Southwell Minster.
'Are we here!' she cried with pleasure.
The rigid, sombre, ugly cathedral was settling under the gloom of the coming night, as they entered the narrow town, the golden lights showed like slabs of revelation, in the shop-windows.
'Father came here with mother,' she said, 'when they first knew each other. He loves it—he loves the Minster. Do you?'
'Yes. It looks like quartz crystals sticking up out of the dark hollow. We'll have our high tea at the Saracen's Head.'
As they descended, they heard the Minster bells playing a hymn, when the hour had struck six.
Glory to thee my God this night
For all the blessings of the light—
So, to Ursula's ear, the tune fell out, drop by drop, from the unseen sky on to the dusky town. It was like dim, bygone centuries sounding. It was all so far off. She stood in the old yard of the inn, smelling of straw and stables and petrol. Above, she could see the first stars. What was it all? This was no actual world, it was the dream-world of one's childhood—a great circumscribed reminiscence. The world had become unreal. She herself was a strange, transcendent reality.'
The ahistoric stability of Southwell today is apparent in the Minster bells not playing the sound of the past. People now believe not less than the generation which precedes them. Any visitor, no matter how avant-garde, will visit the Minster if it is open. We are as apt to perceive its towers in terms of Will Brangwen's architectural concepts, as of linear and modernist quartz. In the old inn yard history is not smellably in motion, mixing the smell of straw and stables with that of petrol. There is only that of petrol.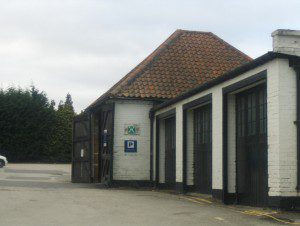 As for the experience which Ursula and Birkin have in 'a little parlour by the fire' – it is of a transcendent nature such as only that exceptionally intense liver of life, Lawrence – whenever alive – could conceive, and try with imperfect comprehensibility to describe:
'She looked at him. He seemed still so separate. New eyes were opened in her soul. She saw a strange creature from another world, in him. It was as if she were enchanted, and everything were metamorphosed. She recalled again the old magic of the Book of Genesis, where the sons of God saw the daughters of men, that they were fair. And he was one of these, one of these strange creatures from the beyond, looking down at her, and seeing she was fair […] 'We love each other,' she said in delight.
'More than that,' he answered, looking down at her with his glimmering, easy face.'
After something has happened – it is not sex, but it involves the whole body and especially Birkin's loins – 'They were glad, and they could forget perfectly. They laughed, and went to the meal provided. There was a venison pasty, of all things, a large broad-faced cut ham, eggs and cresses and red beet-root, and medlars and apple-tart, and tea. 'What good things!' she cried with pleasure. 'How noble it looks!—shall I pour out the tea?—'
Suddenly we are back with the day-trip to Southwell; with the Brown family, which sat down to cider and apple-tart and tea, such good things. But they would not have been so good – nor would the Minster's heavy round nave arches have travelled so grandly forwards – had I not been accompanied that day in Southwell by fictional characters, so aware of history, but now ahistorically present there themselves in great uncircumscribed reminiscence. The wild, free future into which Ursula and Birkin then launch themselves – sitting down in the Saracen's Head to write resignations from their jobs – is that in which we live, and have to some degree inherited from the person who created them.