Report of the Twenty-Seventh Meeting of the London D. H. Lawrence Group
Jane Costin
The Sculptor and the Novelist
Thursday, 28th April 2022
By Zoom
18.30-20.00 UK time
ATTENDERS
25 people attended, including, from outside of England, Kathleen Vella in Malta, and Simonetta de Filippis and Steve R. in Italy.
INTRODUCTION
Jane Costin is the reviews editor of the Journal of D. H. Lawrence Studies and a regular contributor to the annual International D.H. Lawrence Conference in Nanterre. Her recent publications include a chapter on Lawrence and Sculpture for the Edinburgh Companion to Lawrence and the Arts (2020), articles for 2021 edition of JDHLS : 'Lawrence and David Garnett: A Friendship Revisited' and 'What was "Wrong" with the Olivier Sisters' and articles for Etudes Lawrenciennes: 'Resisting Tragedy: Lawrence, Marriage, Comedy and Art' (2021) and 'Of Pirates and Bullfights: Lawrence's fascination with Two Faces of Dionysian "Madness"' (2019).
She introduced her presentation as follows:
Henri Gaudier-Brzeska is arguably the least well-known, highest regarded, sculptor of the early Twentieth century. Roger Fry described him as "one of the most interesting sculptors working in England…He is very brilliant and facile and a master of his craft". A close friend of Jacob Epstein, Ezra Pound, Nina Hamnett and Mark Gertler, he inspired Henry Moore and John Skeaping. Edward Marsh helped to support Gaudier financially and often had him to stay at his house. Friendly for a time with John Middleton Murry and Katherine Mansfield, Gaudier believed in the importance of rhythm in the arts and contributed to their magazine Rhythm. Gaudier socialised at the Cafe Royal and with Ford Maddox Ford and his friends. Closely involved with Britain's only avant-garde art movement – Vorticism – Gaudier set out his principles of sculpture in the 1914 first edition of Wyndham Lewis's magazine Blast. By the second edition he was dead. He was killed at the age of 23, fighting for France in the First World War. But even this brief resume points to the many striking links between this precocious young sculptor and Lawrence. Therefore, whilst there is no hard evidence they ever met, it is most likely that Lawrence was aware of Gaudier and his work. Hence I will try and illuminate the connections between the two men and suggest Gaudier's influence on Women in Love.
THE PRESENTATION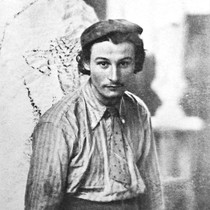 Jane started her presentation with some biographical information on Gaudier: born to a carpenter in a French village in 1891, he was interested in wild animals, and was also likened to them; Pound likened him to a wolf. He was neglected by his mother and abused by his father. Highly intelligent, in 1906 at the age of 15 he achieved a school certificate with a prize for English. He then won a bursary which funded two years abroad and chose to go to London where he drew obsessively, including the Parthenon Frieze in the British Museum. He then studied in Munich, and in 1909 went to Paris, but he preferred England, and studied English writers including Shakespeare and Ruskin. His life companion Sophie Brzeska, who was older than him, and insisted that their relationship be Platonic, helped him to become an artist. Within a few weeks of meeting her, he decided he must be a sculptor, even at the expense of poverty. In 1911, when he was 19, they moved to London, presenting themselves as brother and sister. By January1912 he had established himself in London's artistic circles, meeting Eric Gill, Wyndham Lewis, Ford Maddox Ford, Ottoline Morrell, Jacob Epstein, Mark Gertler and Ezra Pound. With the last two he became close friends; Pound championing his work and writing a memoir of him after Gaudier's early death. In London, Gaudier went to Epstein's studio to see his tomb of Oscar Wilde, later installed in Paris; this used direct carving (the method of the Greeks, as opposed to the Roman use of plaster or clay forms along with a pointing machine – the former being revived at this time); a meeting that instigated Gaudier's turn to direct carving. In 1913 he got his own studio, and this gave him the space to move away from his clay sculptures and to do direct carving of his own.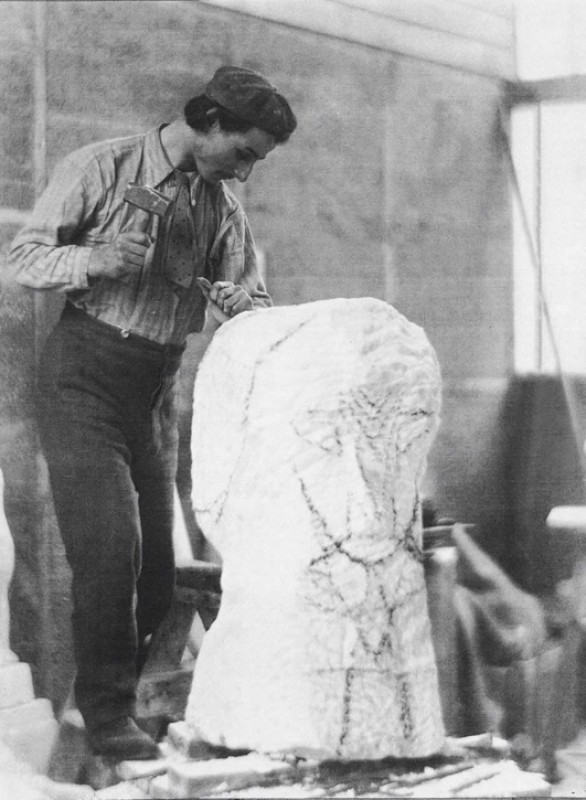 He was a member of the London society that was centred on the Café Royal, and was Bohemian to the point of not washing himself or eating properly and he often slept in a deckchair at his studio. His work was all consuming. Mansfield and Murry were keen to publish some of Gaudier's drawings in their magazine Rhythm and they became friendly with Gaudier and Brzeska. However, they eventually quarrelled when Gaudier overheard Mansfield, in private, disparaging Brzeska to Murry. Gaudier was never paid for his contributions and Mansfield and Murry then turned their attention to Lawrence. To him they may have spoken against Gaudier. When war was declared in 1914, Gaudier enlisted in the French army to defend his homeland. He was killed at the age of 23 in June 1915, having been decorated for bravery.
Though there is no evidence that Lawrence met Gaudier, he almost certainly heard about him, and – Jane argued – it is possible that he was a model for Loerke in Women in Love, in that there are striking similarities between the two including Loerke's views about sculpture, his multilingualism, and his physical aspect. The small clay and plaster sculptures which Gaudier made before turning to direct carving may have inspired the small animals created by Gudrun. Moreover, Jane argued that the presentation of Loerke is not wholly negative. Even Ursula is attracted to him, and the "rat" (Birkin's description of Loerke) is sometimes a positive animal for Lawrence, who admired its questing spirit.
THE DISCUSSION
Kathleen Vella wondered whether Gudrun was a reference to Sophie, or indeed to Gudrun's fascination with Loerke. Jane responded that, though her sculptures were very like Gaudier's, she doubted a connection to Sophie herself. Edward Chaney observed that the revival of direct carving was in part a reaction against Rodin, who didn't use it, though others had done so before him. Steve R. strongly recommended the 1972 Ken Russell biopic of Gaudier, Savage Messiah. Jane concluded by saying that she greatly admired Gaudier, whom she found a fascinating man, and that she wished to fly the flag for him.