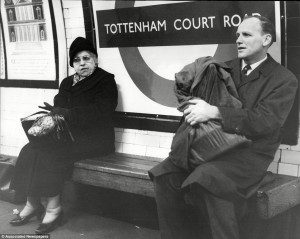 Like hundreds of other people, I spent 2015 as a Tottenham Court Road Station refugee. From January to December I walked further to work because the station's Central line interchange was closed.
There were benefits to this: more exercise; discovering Eastcastle Street; slipping through the two cute alleyways off Charlotte Street in which I always dreamt of encountering a long-lost friend.
Yet when the interchange astonishingly reopened on schedule last December, I was eager to revisit my old, new-fangled, station.
It had needed some attention. Built in 1900, its last reboot had been in the early 80s with the addition of Sir Eduardo Luigi Paolozzi's mosaiics. Lurid, restless, technophiliac and childlike, the problem was that these were just no good in the first place. Granted – the man can sculpt. His 1995 Newton-and-compass, squatting warningly infront of the British Museum, relies heavily on Blake, but also shows what the Italian-Scot had learned from his Cubist friends in Paris. And his non-figurative 'Erwin Piscator', outside Euston Station, is, if obscure, at least interesting. But his 1982 homage to the technical shops of Tottenham Court Road had never done anything to improve my commute.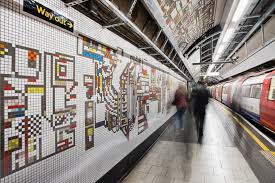 So what did I find? That they had been preserved! I would have thought that replacing them was reason enough to close the station. But there they were – along with their grubby, claustrophobically low-ceilinged walkways, which seemed if anything to have got longer. Does not Britain have muralists who could have reflected the changing nature of the eponymous road and done something on the theme of leather corner-sofas? Or, more inspiringly, on the theme of the British Museum (which used to have the next stop East on the Central Line), or Centre Point, or theatreland, or the bookshops of Charing Cross Road?
But wait! Art is not dead. Because when you emerge from the station's unpurged bowels you find clean new walls decorated by two new patterns: huge black circles and diagonal squares vertically cut by white stripes, on a white background, rendered on horizontal tiles. And the same circles and squares in block colours (blue, green, orange, red, yellow), on a black-and-white vertically striped background.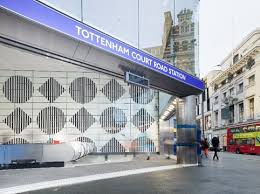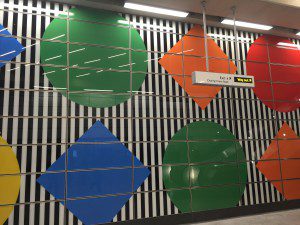 I paused. The bright colours echoed those of Paolozzi and the fashions of the eighties, whilst the graphics as well as the colours recalled the sixties – the decade of the Centre Point building towards which they point.
And then I gave up. They are utterly meaningless. They would disgrace a public toilet. And there they shine, in one of London's most prominent underground stations, soon to become more so with the advent of CrossRail. Talented artists must weep to think how such a commission was obtained and granted.
I pass on to happier matters.
There is one good thing in the new station: the high glass box above the escalator ascending to Centre Point, and to the piazza which is to be built around this.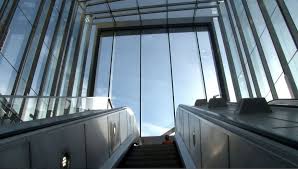 And – although Richard Seifert has many architectural crimes to his name, foremost amongst which is the 1968 Euston Station which wiped out the old station's 1837 Doric propylaeum – he has wangled his place in purgatory with his sublime 1966 Tower of Babel.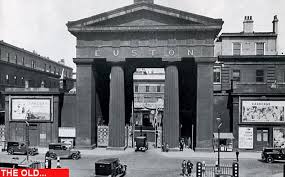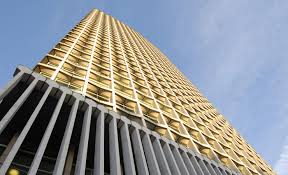 Admittedly, it isn't quite as good as Tour Montparnasse, its double-heighted French cousin, seven years its junior. It is subtly convex, whereas the Tour has a chic Parisian nipped waist. The Tour has an open-air rooftop terrace, where you can be buffetted by the winds, alone, at night, and return to the top-floor bar a changed woman. Still – it's as close as London ever got to that. And it is ever-present, so that I feel, as I beetle my way around its base – in Soho, on New Oxford Street – as though I am holding a streamer from its giant maypole, and all we Londoners are unwittingly weaving a fantastic cloth. Then there is the view – London's best, precisely because it is central. Until it was abrubtly closed after only four years open to the public, in January 2015, you used to circle the Paramount restaurant's thirty-fourth-floor bar to see first the City, then the river, then Parliament, then Hyde Park, then Regent's Park, then the British Museum, and then the City again, swimming towards you over your cocktail. You had the thrill of being a tourist in your own city.
Providently, 20 Fenchurch Street (the Walkie-Talkie) stepped into the gap just in time, opening its two top-floor restaurants and bar in the very month that the Paramount closed. It has a single, astonishing coup de theatre: the Shard, centre-stage in the enormous, groundwards-buckling South-facing window. This is probably London's most sublime sight.
But the Walkie-Talkie itself is less-well-placed, and the sum total of its views is less than that of Centre Point. So it is a desparate shame that the Paramount will not reappear when the tower emerges from its plastic swaddling – now being ripped off in horizontal strips day by day – to become a stack of luxury flats. That view was the only compensation offered by the building to those Londoners who otherwise hated Centre Point.
Because of course, all this sublimity comes at a social price, as tends to be the way of such things in this country. What empty office buildings were to the 1980s as a symbol of capitalist anti-socialism, luxury flats are to our decade – and Centre Point has typified one after the other of these in turn. Many people, of course, are distressed by these towers even visually, as I am by Seifert's offensively-horizontal Euston. And then there is the unforgiveable, pedestro-cidal gyratory at Centre Point's base, paid for by the first tycoon-owner Harry Hyams as quid pro quo for being allowed to build his skyscraper in the first place.
That, at least, is now to be resolved, with the promised 'piazza'. The very name suggests the promise of warmer weather, and ice-cream sellers, and perhaps an accordionist. Let us hope, at the very least, that we are not taking our life in our hands when trying to reach it from New Oxford Street. And that there are benches, with their backs to the circles and the squares, from which we can sit and contemplate the sublime oblong of private wealth soaring upwards from the negative space beneath.