I prepared the following materials for the 14th trienniel International DH Lawrence Conference, of which I was Executive Director:
LONDON CALLING: LAWRENCE AND METROPOLIS
Monday 3rd– Saturday 8th July 2017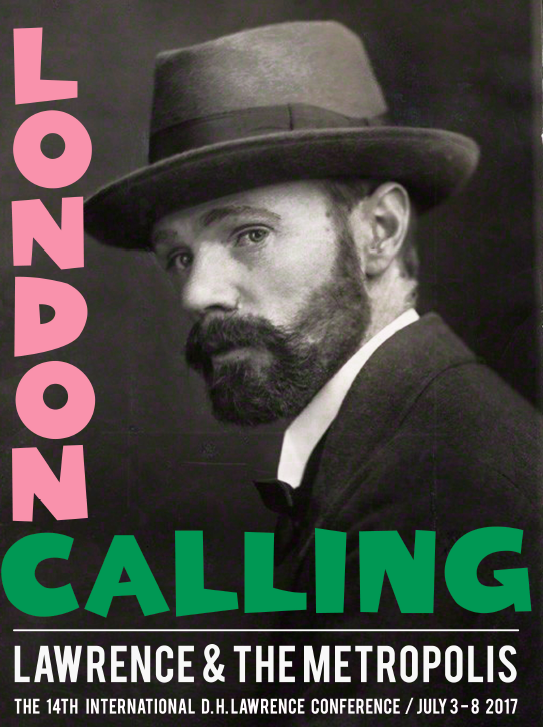 THE INTRODUCTION
The following introduced my Call for Papers:
When Lawrence's circle first expanded beyond Nottingham, it reached London. There Lawrence's teaching career reached its culmination and its termination, his literary career took off, and his marriage started. There he met friends and patrons including Ford Maddox Hueffer, Lady Ottoline Morrell, and H.D. He and Frieda lived there after their expulsion from Cornwall, and whenever they circled back to England, it was to London that they first came.
Lawrence visited London around fifty times; for the first time in October 1908 for his interview for a teaching position in Croydon, and for the last time in September 1926. These visits took place when he was twenty-three and forty-one respectively. A study of Lawrence's relationship to London therefore includes within its remit most of his writing career. Over the intervening eighteen years he visited or lived in London in every single year, apart from during his travels of 1920-22. He saw the city grow from seven to eight million inhabitants, and saw it accumulate buses, trams, private cars, bridges, Underground stations, West End theatres, and electric street lights. He knew the London of the Edwardian period, of the War, and of the jazz age. He knew middle class outer-suburban Croydon, but also some of London's most fashionable districts, where various of his friends lived: Hampstead (Edward Garnett, Dolly Radford, and Catherine Carswell), St. John's Wood (Koteliansky), Mecklenburg Square (H.D.), and Bedford Square (Lady Ottoline Morrell). Bloomsbury was his stamping ground only literally; he was not part of its coterie.
London influenced him even whilst he was absent from it: in 1913 Frieda's divorce hearing was heard there; in 1915 he was examined for bankruptcy at its High Court; in the same year The Rainbow was tried at Bow Street Magistrate's Court; in 1927 David was produced at the Regent Theatre; in 1928 Catherine Carswell oversaw the typing of part of Lady Chatterley's Lover there; in 1928 Lawrence explained 'Why I Don't Like Living in London' in The Evening News; and in 1929 his paintings were exhibited at the Warren Street gallery, and imprisoned.
Given his recoil from London's intellectual chatter, his troubles with London authorities, and his objections to metropolises in general, it is not surprising that many of his comments about London in his non-fiction, and his depictions of London in his fiction are negative. In September 1928 The Evening News published his polemic against London, regarding the commissioning of which he commented: 'Mr Olley wants me to write "Why I don't like London!" Why London doesn't like me is more to the point.' The title 'Dull London' was imposed on Lawrence, but it sums the piece up.
However, he admits that 'It used not to be so. Twenty years ago, London was to me thrilling, thrilling, thrilling, the vast and throbbing heart of all adventure.'
As towards Eastwood, Lawrence's feelings towards London were mixed. For such a nodal city, it has a notably peripheral place in his writings. This may in part explain why London has not featured significantly in critical work on Lawrence to date.
But Lawrence could not have become the person and writer that he did without having known his native capital city – the world's biggest city, the heart of the world's biggest empire, and a centre of international modernism.
THE TIMELINE
This timeline has been prepared in preparation for this conference, in the hope that it will help those who are thinking of attending it, and would like to focus their minds on Lawrence's relationship with London – as well as all others to whom Lawrence and/or London are of interest.
The timeline contains many of Lawrence's written references to London in his letters, fiction, poems, and essays.
It is non-exhaustive. In particular, many of the minor references to London in the letters (for example those many concerning publication matters, e.g. the sending of books or manuscripts to or from London) are not included. The details of Lawrence's responses to institutions, such as the National Gallery, which are within London, are also ommitted.
All of the quotations and most of the dates are taken from the Cambridge University Press Edition of the Letters and Works of D.H. Lawrence, General Editors James T. Boulton, M. H. Black, Paul Poplawski and John Worthen, ongoing since 1979. Page numbers refer to this edition; the uncertainties over dates indicated below are those of the editors of the volumes concerned.
LL below stands for The Cambridge Edition of the Letters of D.H. Lawrence.
LL 2:25 means volume 2 of the letters, page 25.
Quotations from the letters are headed by date of composition, recipient, and location of composition.
Text in italics gives facts of Lawrence's life concerned with his presence in, or absence from, London.
L stands for D.H. Lawrence
TIMELINE OF D.H. LAWRENCE IN LONDON
26th ? October – 3rd ? October 1908   L is in London for interview at Davidson Road School, Croydon
11th October 1908       L starts as a teacher at Davidson Road School, Croydon
9th October 1908         Blanche Jennings         Eastwood
I have also spent a week in London, pompous, magnificent capital of commercialdom, a place of stately individualistic ideas, with nothing Gothic or aspiring or spiritual. The arches there are round and complete; the domes high for the magnification of the voices below; the pillared temples are banks and business houses. I felt remarkably at home in London, remarkably cheerful and delighted; it is so frankly mundane, that one is never tortured. Verily, London is restful, as quiescent as a dinner with J.P.'s. It is Lincoln and Ely that are still, and set the soul a-quivering. Silence is strange and mystical and wearying; a row is a calm to the soul; it is the noble, the divine, the Gothic that agitates and worries one – round-arched magnificent temples built by the swelling intelligence of Men are gratifying and comforting. Also the people in London do not feel so strange; they are folk who have come down the four winds of Heaven to this center of convergence of the Universe; people in Manchester and Stockport and the awful undignified provincial towns are like races of insects running over some food body; one naturally gravitates to London; one naturally flees from the cotton centres.
I am appointed assistant master in the Davidson Rd schools, Croydon – or South Norwood, I hardly know which. […] Croydon is a clean, decent, and I think healthy place. It is enough.
LL 1:80
[15th October 1908]                Mabel Limb    12 Colworth Road, Addiscombe, Croydon
Here am I a stranger in a strange land. Croydon is a big rambling place, not very interesting, but clean and open. […] I find I can go to London by motor-bus for fourpence. I am not so far from the Crystal Palace – I can see it from the school playground.
LL 1:82
[17th October 1908]                Gertrude Cooper         Croydon
Here I stand with all London rumbling round me, thinking of you. I wish you could see the shops and the folks here – do, my dear, come down for a day with Fran[ces], you would enjoy it.
LL 1:83
24th October 1908                   Mabel Limb                Croydon
I have been to Hampton Court today – it is a most lovely place.
LL 1:84
[14th November 1908]             Frances Cooper           Barnet
Barnet is a sleepy, small place – one can hardly believe oneself so near to London.
LL 1:93
2nd December 1908                 May Holbrook                        Croydon
One does seem buried in Eastwood – but the grave is no deeper there than elsewhere. There is a cousin of mine who lives in the heart of London – not far from Piccadilly. She is thirty two, and has worked in a sort of warehouse all her life (in a really nice job). She is more unlearned, and less developed than anyone I have ever met, of her years. Towns oftener swamp one than carry one out onto the big ocean of life. Townspeople are indeed glib and noisy, but there is not much at the bottom of them. They are less individual, less self-opinionated and conceited than country people, but less, far less serious. It is with them work, and after work, conscious striving after relaxation. In Eastwood, people work, and then drift into their small pleasures; here they pursue a shallow pleasure, and it leaves no room for a prolific idleness, a fruitful leisure. Do not lament a town so much. Truly, there are meetings, and, better, theatres and concerts. But meetings are places where one develops an abnormal tone, which it takes some time to soften down again, and theatres and concerts have not much staying power. The true heart of the world is a book; there are sufficient among your acquaintances to make a complete world, but you must learn from books how to know them. A book is better than a meeting.
LL 1:96
23rd December – 10th January 1909 L spends Christmas in Eastwood
16th February 1909                 May Holbrook            Croydon
I went to London a week last Saturday, to the winter exhibition at the Academy. It is very strange out West, down Piccadilly, on Saturday morning. There are women such as I have never seen before, beautiful, flowing women, with a pride and grace you never meet in the provinces. The proud, ruling/ air of these women of the stately West is astounding; I stand still and stare at them. In the square in front of Burlington House, carriages are trotting sumptuously round and round waiting while the ladies are walking through the gallery. […] I went in the afternoon to Hornsey, to see George Hill. On the Sunday he took me to the Alexandra Palace. It is a ghastly place, all sham, sham chalk statues, sham stone, wood and paint, sham trees, sham everything, and everything dirty, broken, the sham exposed. And there, on Sunday afternoon, in the great hall, there was an organ recital. The organ is big and good; but the gathering! There were some three or four hundred people, all that respectable class of poor city people such as one never sees in Croydon. All unhealthy, weedy, impoverished specimens. The worst of it was, there was hardly one face to look at; I shouldn't mind their figures, if their faces were interesting. There was no character, no anything; they were very much like John Willie Oldershaw – Mon Dieu!
LL 1:115/16
28th February 1909                 Louie Burrows            Croydon
The town too is good; it has books, and people; it is not so desolating; one cannot there be lonely enough to feel the wistful misery of the country; above all, the town is valuable for the discipline it gives one's nature; but, in the end, for congenial sympathy, for poetry, for work, for original feeling and expression, for perfect companionship with one's friends – give me the country. […] To cure me of my madness for the country I took a trip last week to Wimbledon, through Kingston Vale, over to Richmond Park, and back over Wimbledon Common. Kingston Vale is lovely – beautiful groves of silver birch more silvery than any I have seen. Richmond Park is glorious; it is history, it is romance, it is allegory, it is myth. The oaks are great and twisted like Norwegian tales, like the Vikings; the beeches are tremendous, black like steel […] You would love Richmond, Louisa; together, we should spend a perfect day there. […] Wimbledon Common, too, is fascinating: ladies, gentlemen, grooms, girls, galloping on horseback over the heath and down hill through the birch-woods; Territorials playing at war all over the great common; scarlet coated golfers moving like vivid flowers; the old windmill – the great view of Surrey – come with me to Wimbledon too sometime.
LL 1:117-18
1st February 1909 L writes 'School on the Outskirts'
School on the Outskirts
How different, in the midst of snow, the great school rises red!
A red rock silent and shadowless, clung round with clusters of shouting lads,
Some few dark-cleaving the doorway, souls that sling as the souls of the dead
In stupor persist at the gates of life, obstinate dark monads.
This new red rock in a waste of white rises against he day
With shelter now, and with blandishment, since the winds have had their way
And laid the desert horrific of silence and snow on the world of mankind,
School now is the rock in this weary land the winter burns and makes blind.
Poems 1:42   (Published in New Poems, 1918)
6th March 1909           Blanche Jennings         Croydon
Two weeks ago I went through Kingston Vale to Richmond Park and back over Wimbledon Common. Kingston Vale is sweet and beautiful – a glade with groves of glistening silver birch trees, and a brook, and full of sunshine, with flashing birds – very sweet and dear and graceful. Richmond Park is one of the few remaining parts of the old world of romance. The hills rise up and look on the great oaks writhing and twisting – the beeches are tremendous steel shafts […] And do you want to see the romance and showy life of today? Go on Wimbledon Common. The horsemen and the horsewomen dash and canter down the hill among the birch groves; on the great common, with the windmill in one corner, with the hills of Surrey/ running far south, the Territorials play a game of war, the golfers in their vivid scarlet coats play a game of golf, dotted conspicuously far and near over the great plateau, the ladies play a game of strolling negligently in full view – grooms canter with their charges – girls trot, and fathers gallop. It is very fascinating. I love it, and have a day of almost perfect happiness.
LL 1:120-21
11th March 1909         Louie Burrows            Croydon
We have had some despicable weather – I can hardly say vile enough things about it. How have you found it? Of course, in town, it is not quite so bad as in the country. But I have to cross a piece of wild waste land on my way to school – land where the grass is wild and trodden into mud – where the brick-layer's hammer chinks, chinks the funeral bell of my piece of waste land – and there the mud is inexpressible.
LL 1:121
28th March 1909         Louie Burrows            Croydon
Here fun is fast and furious, as you will see if you take a London paper. It is election – voting day on Monday [Croydon by-election]. There are great crowds surging/ through the streets – there is a searchlight wandering overhead through the darkness – there are cinematographs at upper-storey windows, there are Suffragettes in thousands and tens of thousands processing and crying in the wilderness – the place is strident with voices and placards – rustling with leaflets and pamphlets. I was in the fun the other night; I was in the mad grip of the crowd before the Suffragettes. If you had felt the surge, the vicious rush of one solid mass of men towards the car where the two women were alone, one standing crying scorn on the brutes, the other sitting with dark, sad eyes! 'If men cannot control themselves' said Miss Cameron 'it is time women had some power to control them.' We in front heard, and the fellows yelled. Then the whole mob howled and like one shoulder, the hundred men in the mob pressed onto the car, threatening to overturn it. The women gave way – inch by inch the car retreated – amid howls and yells of derision. The searchlight splashed down the street on the close pack white faces and dark mouths – Louisa, have you seen such, you barbarian? – it would have frightened your fresh, barbarian heart. […] Louisa, tell me about your farmers who fall out. I tell you about the town, where a sensitive, handsome man of culture is tortured for three long hours. […] I went to the Dulwich Art Gallery yesterday – took the car to the high level of the Crystal Palace, and looked out over the great glade, to Westminster far in the distance, and the mist of all London between. I felt a long way from home and the quaint, amusing country. I went down the long College hill to the gallery. It is a lovely and lovable little place, full of old, fascinating pictures […] I should like to take you – and then to the Academy, to see the moderns.
LL 1:122-24
Spring 1909 L composes 'Letter From Town: on a grey evening in March'
Letter From Town: on a grey evening in March
The clouds are pushing in grey reluctance slowly northward to you,
While north of them all, at the farthest ends, stands one bright-bosomed,   aglance
With fire as it regards the wild north cloud-coasts, red-fire sees running through
The rocks where ravens flying to windward melt as a well-shot lance.
You should be out by the orchard, where violets secretly darken the earth,
Or there in the woods of the twilight, with northern wind-flowers shaken astir.
Think of me here in the library, trying and trying a song that is worth
Tears and swords to my heart, arrows no armour will turn or deter.
You tell me the lambs have come, they lie like daisies white in the grass
Of the dark-green hills; new cards in shared; peewits turn after the plough –
It is well for you. For me the navvies work in the road where I pass
And I wanted to smite in anger the barren rock of each waterless brow.
Like the sough of a wind that is caught up high in the mesh of the budding trees,
A sudden car goes sweeping past, and I strain my soul to hear
The voice of the furtive triumphant engine as it rushes past like a breeze,
To hear on its mocking triumphance unwitting the after-echo of fear.
Poems 1:26-27   (Published in New Poems, 1918)
8th – 18th April 1909 L goes to Eastwood for Easter
30th June 1909             Louie Burrows            Croydon
I wish you were coming on Saturday, instead of the following […] I vote we don't go to The Tower – that we go straight down to St. Paul's – then down the Strand to Trafalgar Square. You can choose for yourself there. Either you can have a glance through the National Gallery, to look at the Corot and the Velasquezs and the Rembrandts, or you can go straight down to the Embankment, to Westminster and the Tate Gallery. You will do as J[essie] did, I presume, bring lunch, and eat it by the River, then we will get tea in Town. After tea we will go into Hyde Park for a little time, and then we can go east again to the theatre – we will go to the theatre – we'll go to Drury Lane, where there is an Italian Opera Company: no we won't we'll go to Covent Garden Opera, and I hope Tetrazzini will be singing. Since you are not going to have a holiday, I don't see why you shouldn't have a real downright fuddle on that memorable day. To be sure I am not very well off – I wish I were not so handicapped for cash – so that I cannot pay the heavy ex's, but I want a giddy time with you. I am always so disappointed that I am so poor and that I cannot stand the treat altogether. […] By the way, you will come to Marylebone – G[reat] C[entral] – wont you? I want some particulars. If you come G.C. we shall be fairly well west to start with, and you could go to Marble Arch straight off and walk down Oxford St to see the great shops, if it so likes you, and we could move East, finishing at St Paul's before the theatre.
LL 1:130
Summer 1909 L composes 'Guards!'
Guards!
A Review in Hyde Park, 1910
The Crowd Watches
Where the trees rise like cliffs, proud and blue-tinted in the distance,
Between the cliffs of the trees, on the grey-green park
Rests a still line of soldiers, red motionless range of guards
Smouldering with darkened busbies beneath the bayonets' slant rain.
Colossal in nearness a blue police sits still on his horse
Guarding the path; his hand relaxed at his thigh,
And skyward his face is immobile, eyelids aslant,
In tedium, and mouth relaxed as if smiling – ineffable tedium!
So! So! Gaily a general canters across the space,
With white plumes blinking under the evening grey sky.
And suddenly, as if the ground moved
The red range heaves in slow, magnetic reply.
Evolutions of Soldiers
The red range heaves and compulsory sways, ah see! in the flush of a march
Softly-impulsive advancing as water towards a weir from the arch
Of shadow emerging as blood emerges from inward shades of our night
Encroaching towards a crisis, a meeting, a spasm and throb of delight.
The wave of soldiers, the coming wave, the throbbing red breast of approach
Upon us; dark eyes as here beneath the busbies glittering, dark threats that broach
Our beached vessel; darkened rencontre inhuman, and closed warm lips, and dark
Mouth-hair of soldiers passing above us, over the wreck of our bark.
And so, it is ebb-time, they turn, the eyes beneath the busbies are gone.
But the blood has suspended its timbre, the heart from out of oblivion
Knows but the retreat of the burning shoulders, the red-swift waves of the sweet
Fire horizontal declining and ebbing, the twilit ebb of retreat.'
Poems 1:35 (Published in Bay, 1920)
29th – 31st July 1909 L stays at Harrow-on-the-Hill with his aunt, Mrs Berry
31st July – 14th August 1909 L has family holiday on Isle of Wight
14th – 29th August 1909 L stays in Eastwood
Summer 1909 L writes 'Embankment at Night, Before the War'
Embankment at Night, Before the War
Charity
By the river
In the black wet night as the furtive rain slinks down,
Dropping and starting from sleep
Alone on a seat
A woman crouches.
I must go back to her.
I want to give her
Some money. Her hand slips out of the breast of her gown
Asleep. My fingers creep
Carefully over the sweet
Thumb-mound, into the palm's deep pouches.
So, the gift!
God, how she starts!
And looks at me, and looks in the palm of her hand!
And again at me!
I turn and run
Down the Embankment, run for my life.
But why? – why?
Because of my heart's
Beating like sobs, I come to myself, and stand
In the street spilled over splendidly
With wet, flat lights. What I've done
I know not, my soul is in strife.
The touch was on the quick. I want to forget.
Outcasts
The night rain, dripping unseen,
Comes endlessly kissing my face and my hands.
The river, slipping between
Lamps, is rayed with golden bands
Half way down its heaving sides;
Revealed where it hides.
Under the bridge
Great electric cars
Sing through, and each with a floor-light racing along at its side.
Far off, oh, midge after midge
Drifts over the gulf that bars
The night with silence, crossing the lamp-touched tide.
At Charing Cross, here, beneath the bridge
Sleep in a row the outcasts,
Packed in a line with their heads against the wall.
Their feet, in a broken ridge
Stretch out on the way, and a lout casts
A look as he stands on the edge of this naked stall.
Beasts that sleep will cover
Their faces in their flank; so these
Have huddled rags or limbs on the naked sleep.
Save, as the tram-cars hover
Past with the noise of a breeze
And gleam as of sunshine crossing the low black heap,
Two naked faces are seen
Bare and asleep,
Two pale clots swept and swept by the light of the cars.
Foam-clots showing between
The long, low tidal-heap,
The mud-weed opening two pale, shadowless stars.
Over the pallor of only two faces
Passes the gallivant beam of the trams;
Shows in only two sad places
The white bare bone of our shams.
A little, bearded man, pale, peaked in sleeping,
With a face like a chickweed flower.
And a heavy woman, sleeping still keeping
Callous and dour.
Over the pallor of only two places
Tossed on the low, black, ruffled heap
Passes the light of the tram as it races
Out of the deep.
Eloquent limbs
In disarray
Sleep-suave limbs of a youth with long, smooth thighs
Hutched up for warmth; the muddy rims
Of trousers fray
On the thin bare shins of a man who uneasily lies.
The balls of five red toes
As red and dirty, bare
Young birds forsaken and left in a nest of mud –
Newspaper sheets enclose
Some limbs like parcels, and tear
When the sleeper stirs or turns on the ebb of the flood –
One heaped mound
Of a woman's knees
As she thrusts them upward under the ruffled skirt –
And a curious dearth of sound
In the presence of these
Wastrels that sleep on the flagstones without any hurt.
Over two shadowless, shameless faces
Stark on the heap
Travels the light as it tilts in its paces
Gone in one leap.
At the feet of the sleepers, watching,
Stand those that wait
For a place to lie down; and still as they stand, they sleep,
Wearily catching
The flood's slow gait
Like men who are drowned, but float erect in the deep.
Oh, the singing mansions,
Golden-lighted tall
Trams that pass, blown ruddily down the night!
The bridge on its stanchions
Stoops like a pall
To this human blight.
On the outer pavement, slowly,
Theatre people pass,
Holding aloft their umbrellas that flash and are bright
Like flowers of infernal moly
Over nocturnal grass
Wetly bobbing and drifting away on our sight.
And still by the rotten
Row of shattered feet,
Outcasts keep guard.
Forgotten,
Forgetting, till fate shall delete
One from the ward.
The factories on the Surrey side
Are beautifully laid in black on a gold-grey sky.
The river's invisible tide
Threads and thrills like ore that is wealth to the eye.
And great gold midges
Cross the chasm
At the bridges
Above intertwined plasm.
Poems 1:104-05
Bombardment
The Town has opened to the sun.
Like a flat red lily with a million petals
She unfolds, she comes undone.
A sharp sky brushes upon
The myriad glittering chimney-tips
As she gently exhales to the sun.
Hurrying creatures run
Down the labyrinth of the sinister flower.
What is it they shun?
A dark bird falls from the sun.
It curves in a rush to the heart of the vast
Flower: the day has begun.
Poems 1:104 (Published in New Poems, 1918)
11th September 1909 L meets Ford Maddox Hueffer and is introduced to other writers and artists
20th November 1909   Louie Burrows            Croydon
Last Sunday I went up to lunch with Ford Madox Hueffer, and with Violet Hunt, who is rich, and a fairly well-known novelist. They were both delightful. Heffer took me to tea at Ernest Rhys': he edits heaps of classics – Dents Everyman's, for instance. He is very nice indeed, and so is his wife, Grace Rhys, who writes stories. After tea we went on to call on H.G. Wells who also lives up at Hampstead. […] I went on Tuesday to Violet Hunts 'at home' at the Reform Club in Adelphi Terrace, on the Embankment. It was very jolly. Elizabeth Martindale and Ellaline Terriss and Mary Cholmondeley were there – and Ezra/ Pound. He is a well-known American poet – a good one. He is 24, like me – but his god is beauty, mine, life. He is jolly nice: took me to supper at Pagnani's, and afterwards we went down to his room at Kensington. He lives in an attic, like a traditional poet – but the attic is a comfortable well furnished one. He is an American Master of Arts and a professor of the Provencal group of languages, and he lectures once a week on the minstrels [at] the London polytechnic. […] This afternoon I am going up to tea with him and we are going out after to some friends who will not demand evening dress of us. He knows W B Yeats and all the Swells. Aren't the folks kind to me: it is really wonderful.
LL 1:144/45
Autumn 1909 L composes 'Hyde Park at Night, before the War' and 'Piccadilly Circus at Night'
Hyde Park at Night, before the War
Clerks
We have shut the doors behind us, and the velvet flowers of night
Lean about us scattering their pollen grains of golden light.
Now at last we lift our faces, and our faces come aflower
To the night that takes us willing, liberates us to the hour.
Now at last the ink and dudgeon passes from our fervent eyes
And out of the chambered wilderness wanders a spirit abroad on its enterprise.
Not too near and not too far
Out of the stress of the crowd
Music screams as elephants scream
When they lift their trunks and scream aloud
For joy of the night when masters are
Asleep and adream.
So here I hide in the Shalimar
With a wanton princess slender and proud,
And we swoon with kisses, swoon till we seem
Two streaming peacocks gone in a cloud
Of golden dust, with star after star
On our stream.
Poems 1:38
Poems 1:38   (Published in New Poems, 1918)
Piccadilly Circus at Night
Street-Walkers
When into the night the yellow light is roused like dust above the towns,
Or like a mist the moon has kissed from off a pool in the midst of the downs,
Our faces flower for a little hour pale and uncertain along the street,
Daisies that waken all mistaken white-spread in expectancy to meet
The luminous mist which the poor things wist was dawn arriving across the sky,
When dawn is far behind the star the dust-lit town has driven so high.
All the birds are folded in a silent ball of sleep,
All the flowers are faded from the asphalt isle in the sea,
Only we hard-faced creatures go round and round, and keep
The shores of this innermost ocean alive and illusory.
Wanton sparrows that twittered when morning looked in at their eyes
And the Cyprian's pavement-roses are gone, and now it is we
Flowers of illusion who shine in our gauds, make a Paradise
On the shores of this ceaseless ocean, gay birds of the town-dark sea.
Poems 1:38-39 (Published in New Poems, 1918)
L in Eastwood Christmas 1909, and Easter and Whitsuntide holidays 1910.
L in Blackpool summer holiday 1910.
L visits mother in Leicester August, September, and December 1910.
30th September 1910   Rachel Annand Taylor            Croydon
I have not been into any literary society: – indeed, not in London at all, for months and months. I am not a success, and to be a failure wearies me.
LL 1:180
3rd December 1910 L gets engaged to Louie Burrows
9th December 1910 L's mother dies
L spends Christmas holidays 1910 in Brighton and Quorn
March 1911 L writes 'Flat Suburbs, S.W., In the Morning' and 'Suburbs on a Hazy Day'
Flat suburbs, S. W., In the morning
The new red houses spring like plants
In level rows
Of reddish herbage that bristles and slants
Its squirt shadows.
The pink young houses show one side bright
Flatly assuming the sun,
And one side shadow, half in sight,
Half-hiding the pavement-run;
Where hastening creatures pass intent
On their level way,
Threading like ants that can never relent
And have nothing to say.
Bare stems of street-lamps stiffly stand
At random, desolate twigs,
To testify to a blight on the land
That has stripped their sprigs.
Poems 1:21 (Published in New Poems, 1918)
Suburbs on a Hazy Day
O stiffly shapen houses that change not,
What conjuror's cloth was thrown across you, and raised
To show you thus transfigured, changed,
Your stuff all gone, your menace almost rased?
Such resolute shapes so harshly set
In hollow blocks and cubes deformed, and heaped
In void and now profusion, how is this?
In what strong aqua regia now are you steeped?
That you lose the brick-stuff out of you
And hover a like a presentiment, fading faint
And vanquished, evaporate away
To leave but only the merest possible taint!
Poems 1:23 (Published in New Poems, 1918)
April 1911 writes 'Parliament Hill in the Evening'
Parliament Hill in the Evening
The houses fade in a melt of mist
Blotching the thick, soiled air
With reddish places that still resist
The Night's slow care.
The hopeless, wintry twilight fades,
The city corrodes out of sight
As the body corrodes when death invades
That citadel of delight.
Now verdigris smoulderings softly spread
Through the shroud of the town, as slow
Night-lights hither and thither shed
Their ghastly glow.
Poems 1:103 (Published in New Poems, 1918)
9th May 1911  Louie Burrows            Croydon
Will you really only come for the day on Saturday? It is such a rush! But half a loaf's better than no bread. We can hardly go into the country: we can go to the Zoo, where I never have been; and I'll take you to the Tate – though there is no 'New Tate' – only a new room. There is a pretty little garden by the Houses of Parliament where we can sit and look at the River and talk.
LL 1:266
L spends Whitsun and summer holidays 1911 in Eastwood and elsewhere
15th November 1911
On Monday I was up at Covent Garden to hear Siegfried – Wagner – one of the Ring cycle that I had not heard.
LL 1:327
19th November 1911 L falls ill with pneumonia
4th January 1912 L leaves Croydon, having resigned his post at the school
4th February 1912 L breaks his engagement with Louie Burrows
He convalesces at Bournemouth
16th March 1912 L meets Frieda Weekley
5th April 1912             Edward Garnett          Eastwood
Publishing people are more sickly than lepers. I am thankful to be safe out of London.
LL 1:382
[26th April 1912]         Louie Burrows            Kew
Am in London on business till Monday – then going home. I was in Leicester only one clear day. It is lovely to be down here again.
LL 1:387
2nd May 1912             Frieda Weekley           Eastwood
I shall get in King's Cross tomorrow at 1.25. Will that do? You see I couldn't come today, because I was waiting for the laundry and for some stuff from/ the tailors. I had prepared for Friday, but Thursday was impossible. I am sorry if it makes things tiresome. Will you meet me, or let somebody meet me, at King's Cross? Or else wire me very early, what to do. It is harassing to be as we are.
LL 1:390
3rd May 1912 L and Frieda Weekley elope to Germany. Henceforth most summaries of L's travels concern them both.
August – September 1912 L crosses the Alps
18th September 1912 – 30th March 1913 L lives in Gargnano, Lake Garda
19th June 1913 L arrives in London, stays at the Cearne (home of the Garnetts) and has several visits to London
9th July 1913 L stays overnight in Hampstead; meets Katherine Mansfield and Norman Douglas
29th July 1913 L stays with Gordon Campbell at 9 Selwood Terrace, South Kensington, London
6th August 1913 L goes to Downshire Hill, Edward Garnett's London home
7th August 1913 L returns to Germany, Switzerland, Italy
12th? Oct 1913                        Walter de la Mare       Lerici
One breathes so much freer out of London.
LL 2:82
18th October 1913 Frieda's divorce hearing takes place in London
[26th October 1913]    Arthur McLeod          Lerici
London is all smoke a long way off
LL 2:90
24th May 1914                        Edward Marsh                        Lerici
We shall stay in London about a month, I think: to get married by the registrar.
LL 2:178
[28th May 1914]         Edward Garnett          Lerici
I expect both Frieda and I will be in London by the 23rd or so. We are staying in the house of a very ice man – Gordon Campbell – 9 Selwood Terrace – South Kensington.
LL 2:179
24th June – 15th August 1914 L lives at 9 Selwood Terrace, South Kensington, London
7th July 1914   Thomas Dunlop          Cearne
I think our marriage comes off at Kensington registrar's office on Saturday. […] We are very tired of London already, and very glad to be down here in the country.
LL 2:192
July 13th 1914 L and Frieda marry in Kensington Registry Office
31st July-8th August 1914 L meets SS Koteliansky on walking tour in Westmorland
13th August 1914 L meets Lady Ottoline Morrell
L spends much of autumn 1914 – December 1915 in London
8th October 1914         Koteliansky    Chesham
The Murrys will be here on Sunday. They will like meeting you and Horne in a quieter and more congenial place than the Café Royal.
LL 2:221
18th November 1914   Koteliansky    Chesham
We may be coming up to London this week-end – Frieda must see the dentist. If he gives us an appointment for Saturday, as I have written to ask him to do, we shall be down till Monday. I want very much to go to the National Gallery, and, on a fine day, to the Zoo.
LL II 233
31st October 1914       Koteliansky    Chesham
When I went down Wardour Street I saw a necklace I wanted to buy for Frieda. It is in a shop almost at the south end of Wardour St near Leicester Square, on the right hand side going down – S – a second hand jeweller's – a necklace of lapis lazuli set in little white enamel clasps – costs 30/1. It hangs up at eye level near the doorway. I send you a cheque. If you find the necklace, please buy it me. – round beads of lapis lazuli – you can't mistake it – marked 30/-
LL 2:228
6th – 8th March 1915 L spends weekend at Cambridge with Russell, Keynes, Moore
30th April 1915           Ottoline Morrell         Greatham
If you are in London next week – Wednesday till Monday – we are there then, so let us go somewhere together, shall we? – to Kew or to Hampton Court – London excursioners.
LL 2:330
10th May 1915 L is examined for bankruptcy by the Registrar, Probate and Admiralty Division of the High Court, London
14th May 1915                        Ottoline Morrell         Greatham
We were in London for four days: beautiful weather, but I don't like London. My eyes can see nothing human that is good, nowadays: at any rate, nothing public. London seems to me like some hoardy massive underworld, a hoary, ponderous inferno. The traffic flows through the rigid grey streets like the rivers of Hell through their banks of dry, rocky ash. The fashions and the women's clothes are very ugly.
LL 2:339
4th August – 21st December 1915 L lives at 1 Byron Villas, Vale of Health, Hampstead
5th August 1915          Pinker              Hampstead
Will you please note that this [1 Byron Villas, Vale of Health, Hampstead, N W] is now my permanent address.
LL 2:376
6thAugust 1915             Dollie Radford            Hampstead
We are struggling along with the furnishing: got a writing desk and 2 sitting room chairs, 3 Windsor kitchen chairs – also a Chinese Coat for Frieda. It is going to look nice, our flat. […] I went to the Caledonian Market this morning. That is the reverse of infinity – a chaos, an unpleasant insanity. I bought one chair. 10/0.
LL 2:377
16th August 1915        Cynthia Asquith           Hampstead
I don't know how to begin to lecture or write, publicly, these things of the real truth and the living spirit. Everything is so awful and static, so large and ponderous, like the physical mass of London lying on the plain of south England. And one must shift that mass: it is the mountain which faith must move.
LL 2:381
23rd August 1915        Koteliansky    Hampstead
You take the tube to Hampstead station, from thence walk straight up the hill to the Heath, and continue straight on, past the pond, along the Spaniards Road, a little way, till you come to the public house called Jack Straw's Castle. Across the road from this the path drops down the Heath straight into the Vale of Health, and the road winding to the right leads you to Byron Villas. I hope you will like our flat – I think you will.
LL 2:382
4th September 1915     William Hopkin          Hampstead
we [Murry and DHL] are going to have meetings in a room in town – 12 Fisher St – which we have taken
LL 2:391
5th September 1915     Cynthia Asquith         Hampstead
The sight of the people of London strikes me into a dumb fury.
LL 2:386
9th Sep 1915    Ottoline Morrell         Hampstead
Last night when we were coming home the guns broke out, and there was a noise of bombs. Then we saw the Zeppelin above us, just ahead, amid a gleaming of clouds
LL 2:389-90
15th September 1915               Zoë Akins       Hampstead
We have taken a flat here on Hampstead Heath for the winter. There is a fair on behalf of the wounded soldiers today […] The other night we watched the Zeppelins, gleaming golden like a long-ovate moon, and the faint clouds fuming round it, in the grasp of the searchlight.
LL 2:396
[11 Nov 1915]                        Ottoline Morrell         Hampstead
London does strike a blow at the heart, I must say: tonight, in a black rain out of doors, and a tube full of spectral, decayed people. How much better and more beautiful the country is: you are very wise to be at Garsington.
LL 2:434
13th November 1915 The Rainbow on trial at Bow Street Magistrates Court, London
3rd December 1915      Ottoline Morrell         Hampstead
You cannot conceive how dark and hideous London is today, mouldering in a dank fog. I am glad we have let this flat. Even were we staying in England, I should have to leave London.
LL 2:461
12th December 1915    Ottoline Morrell         Hampstead
I went to a recruiting station yesterday to be attested and to get a military exemption […] It was at Battersea Town Hall […] suddenly I broke out of the queue, in face of the table where one's name was to be written, and went out, across the hall away from all the underworld of this spectral submission, and climbed a bus, and in a while saw the fugitive sunshine across the river on the spectral, sunlit towards at Westminster, that I had triumphed, like Satan flying over the world and knowing he had won at last.
LL 2:474
21st– 24th December 1915 L lives at 2 Hurst Close, Garden Suburb, London, home of Vere H.G. Collins
30th December 1915 L moves to Cornwall and is based there until 15th October 1917
7th Jan 1916     Katherine Mansfield               Padstow
No return to London and the world, my dear Katharine – it has disappeared, like the lights of last night's Café Royal.
LL 2:499
14th August 1916        Catherine Carswell      Zennor
I can't come to London – spiritually I cannot. But Frieda wants to come, to go chasing her children. She wants to come when school starts again. That won't be, I am afraid, until September. But I cannot come to London – I am much too terrified and horrified by people – the world – nowadays.
LL 2:638/39
1st September 1916     Cynthia Asquith         Zennor
Frieda talks of coming to London for a few days this month. I simply dare not. The thought of the masses of humanity frightens my very soul. I dare not be jostled into them. But before long, when I am stronger than they, I shall come back.
LL 2:649
[4th September 1916]              Koteliansky    Zennor
When I think of London, the Café Royal – you actually there, and Katharine – terror overcomes me, and I take to my heels, and hide myself in a bush. It is a real feeling of/ horror. I dare not come to London, for my life. It is like walking into some horrible gas, which tears one's lungs. Really – Delenda est Carthago.
LL 2:650
5th September 1916                 Dollie Radford            Zennor
I do not think I shall come to London. I could not bear that great town and its people.
LL 2:651
8th September 1916                 Barbara Low               Cornwall
I shan't come to London – I can't. I feel all exposed – and the shock that great town would almost kill me.
LL II 653
November 1916 L composes All of Us including the following poems:
Twofold
(A young lady hears that her lover is wounded.)
As I went down the street in my rose-red pelerine
Someone stopped me and said: 'Your lover is hurt.'
'Oh bring him to me,' I said. 'Oh lay him between
My breasts, let me cover him up with my skirt.'
'And you, Oh see the myriad doves that walk
Beneath the steps of St Paul's: catch several,
Go quickly now, let nobody stand and talk,
One of you kindle a fire to consume them withal.'
Poems             1:141
An Elexir
(A woman of the East End encourages her young man, who is home on leave.)
Ah young man
What sort of timorous potion of love have you drunk?
If only you see my rings, how they sparkle in my ears,
You go about in a dream, with your countenance sunk
And children shouting after you and giving three cheers.
Why, if you saw my breasts, how they shine on my body,
You'd more than wander about, you'd straightway go
And die like a Jew in a hole, 'fraid lest anybody
Should look at you again: – too soft for a soldier, you know.
Poems 1:145
Night-fall in the Suburbs
Here, would you play all night?
Come in, my mother says;
She says it isn't right
To be out after dark nowadays.
Nor I don't come and tell you for spite,
Neither! So come your ways.
There's the Zeppelins coming
Overhead;
I can hear them humming.
You'll look well when you're dead.
Now stop your blooming
Song, and be said.
(Children sing on, irresponsive.)
My coffin shall be black,
            Six angels at my back,
            Two to watch and two to pray
            And two to carry my soul away.
Poems 1:146
Zeppelin Nights
Now, will you play all night!
Come in, my mother says.
Look in the sky, at the bright
Moon all ablaze!
Look at the shaking, white
Searchlight rays!
Tonight they're coming!
It's a full moon!
When you hear them humming
Very soon,
You'll stop that blooming
Tune-
Sally go round the sun
            Sally go round the moon
            Sally go round the chimney-pots
                        On Sunday afternoon
Poems 1:146-47
2nd December 1916                 Catherine Carswell                  Zennor
I am so afraid to come to London – my state seems so shaky. I am sure I should be ill by the time the train was at Plymouth. I keep on saying to myself 'next week – next week' – and whenever the next week comes I am still incapable of starting. It is almost impossible, I find, for me to go further than Penzance: and even then I want to run back like lightning. It is a curious moral and physical incapacity to move towards the world. Yet I want to come to London: I must wait for the tide to turn in me. […] I do want to come to London for spectacles and things – and to hear about the country, what everybody is saying and feeling. It seems to me a change is taking place again. I should like to come and talk – very much. The spirit is willing, but the flesh is so weak.
LL 3: 44-45
8th Jan 1917     Catherine Carswell      Zennor
I can't come to London now because I have no belief in London. London must come to me – I can move itwards no more. I shall wait to go away, that is all.
LL 3:72
19th – 25th April 1917 L stays at 5 Acacia Road, St John's Wood, Koteliansky's place
22nd April 1917           Sallie Hopkin             Acacia Road
London is a bit chastened and helpless. There is no real intention of pace in the govt.
LL 3:115
[26th April 1917]         Cynthia Asquith         Hermitage [Dollie Radford's country Cottage in Berkshire]
It was the evil influence of aggregate London made me ill: suddenly I start to be sick. It is all very vile.
LL 3:117
7th May 1917              Sallie Hopkin              Zennor
There was no hope of anything good, in London: everybody seemed weary, and helpless, drifting along in the worst kind of laisser aller.
LL 3:123
16th – 19th June 1917 L goes to London to see specialist; stays with Dollie Radford in Hampstead
12th Oct 1917              Lady Cynthia  Zennor
The police have suddenly descended on the house, searched it, and delivered us a notice to leave the area of Cornwall by Monday next. So on Monday we shall be in London, staying, if possible, c/o Mrs Radford, 32 Well Walk, Hampstead, N.W.
LL 3:168
15th October 1917 L arrives in London at Dollie Radford's
20th October – 30th November 1917 L stays at 44 Mecklenburgh Square (H.D.'s flat) and starts Aaron's Rod
16th October 1917       Catherine Carswell      Well Walk
It is very foul – I hate London – God knows how it will all work out. But I am going to try hard to get back to Cornwall. London seems in a bad state – everybody lost their souls – sickening.
LL 3:169
17th October 1917       Cecil Gray       Well Walk
London is not to be thought of. – We reported to police here – they had heard nothing about us, and were not in the least interested – couldn't quite see why we report at all. It is evident they work none too smoothly with the military. But oh, the sickness that is in my belly. London is really very bad: gone mad, in fact. It thinks and breathes and lives air-raids, nothing else. People are not people any more: they are factors, really ghastly, like Lemures, evil spirits of the dead. What shall we do, how shall we get out of this Inferno?
LL 3:170
From 20th October L stays at 44 Mecklenburgh Square
[25 Oct 1917]             J.B. Pinker     Mecklenburgh Square
London as usual has/given me a cold in my throat and chest, which keeps me indoors for the moment.
LL 3:172/73
[29th October 1917]    Cecil Gray      Mecklenburgh Square
London is better – since there are no air-raids, they are getting over their insanity. It seems to be going to pieces. It seems to be going all to pieces – everybody on the verge of disappearance from any stable reality whatsover.-
LL 3:174
30th November – 18th December 1917 L lives at 13B Earls Court Square, at Mrs Gray's
4th? January 1918 L stays at Koteliansky's
5th-6th March 1918 L stays at  Koteliansky's
2nd May 1918-24th April 1919 L stays at Mountain Cottage, Derbyshire
[3rd April 1918]          Catherine Carswell      Hermitage
Oh God, the bombs! One fell in the garden of 42 Mechlenburgh Sq. – all back windows smashed in 44. Thankful we weren't there.
LL 3:232
Spring 1918 L composes 'Town in 1917'
June 1918 publication of 'Town' in The English Review
Town in 1917
London
Used to wear her lights splendidly,
Flinging her shawl-frings over the River,
Tassels in abandon.
And up in the sky
A two-eyed clock, like an owl
Solemnly used to approve, chime, chiming
Approval, goggle-eyed fowl!
There are no gleams on the River,
No goggling clock;
No sound from St. Stephen's
No lamp-fringed frock.
Instead
Darkness, and skin-wrapped
Fleet, hurrying limbs,
Soft-footed dead.
London
Original, wolf-wrapped
In pelts of wolves, all her luminous
Garments gone.
London, with hair
Like a forest darkness, like a marsh
Of rushes, ere the Romans
Broke in her lair.
It is well
That London, lair of sudden
Male and female darknesses
Has broken her spell.
Poems 1:128-29
12th -16th and 20-22nd August 1918 L stays with Koteliansky
[14th August 1918]      Enid Hopkin Acacia Road
London is horribly boring and stultifying. It is like living in a sort of vacuum. […] London is detestable.
LL 3:273
11th September 1918               Robert Nichols            Mountain Cottage
You know, that on our famous evening in Mecklenburgh Square, the police were listening under the door, and detectives came following me when I moved to Earl's Court?
LL 3:281
8th -20th October 1918 L stays at Dollie Radford's, Well Walk, Hampstead
12th November 1918 London for Armistice party at Montague Shearman's
19th? November 1918 L stays at Koteliansky's
[30th October]             Stanley Hocking          Hermitage
We went to London about a month ago, intending to stay some little time. But Mrs Lawrence immediately became ill – the doctor said pleurisy – and she was so depressed that we fed away here again to the country as soon as she could travel. She is much better. – The flu. Is really like a plague, everywhere – London absolutely stricken.
LL 3:294
8th February 1919       Koteliansky    Mountain Cottage
I read about London [Tube strike] in the newspaper – and am not thrilled. What a great nation we are! If the tube stops running, the commonwealth collapses.
LL 3:327
[20 March 1919]         Katherine Mansfield   Mountain Cottage
We got two newspapers today – occasionally the postman brings us one. – Pretty place London seems. It seems as if the dear old régime of happy industrial England is slowly and greasily melting like a dead thaw. I suppose it will take it ages and ages really to thaw itself out, yellow and slushy, without fire or swiftness, lapsing b the passive resistance of strikes. I hate it – but let it go.
LL 3:339
3rd-4th July 1919 L stays at Barbara Low's 13 Guildford St WC 1, then at Koteliansky's, in order to obtain passports
[4th July 1919]                        Edward Marsh 13 Guildford Street
London made me so sick, physically, not metaphorically that I couldn't go out today. […] This place is so noisy. I am going tomorrow to 5. Acacia Rd. St. Hohns Wood. N.W.8.
7th July 1919 L in London
22nd July 1919 L at Koteliansky's
14th October 1919 L at Catherine Carswell's in Hampstead
4th-14th November 1919 L at Kot's
14th November 1919 L leaves for Italy, Sicily, Capri, Australia, United States, Mexico, and does not return to London until December 1923.
4th January 1920 Catherine Carswell             Capri
The English-soeaking crowd are the uttermost uttermost limit for spiteful scandal. My dear Catherine, London is a prayer-meeting in comparison.
LL 3:444
[30 June 1920]            Compton Mackenzie                         Taormina
London sounds sickening as ever. Curse their strikes. I hate Labour and Capitalism and all that frowsty duality in nothingness.
LL 3:561
9th November 1920 American publication of Women in Love
1st June 1921 completes Aaron's Rod
10th June 1921 British publication of Women in Love
From Women in Love:
I Sisters
The provincial people, intimidated by Gudrun's perfect sang-froid and exclusive bareness of manner, said of her: 'She is a smart woman.' She had just come back from London, where she had spent several years, working at an art-school, as a student, and living a studio life.
WL 8
V In the Train
'Where are you staying in London?'
Birkin looked up.
'With a man in Soho. I pay part of the rent of a flat, and stop there when I like.'
'Good idea—have a place more or less your own,' said Gerald.
'Yes. But I don't care for it much. I'm tired of the people I am bound to find there.'
'What kind of people?'
'Art—music—London Bohemia—the most pettifogging calculating Bohemia that ever reckoned its pennies. But there are a few decent people, decent in some respects. They are really very thorough rejecters of the world—perhaps they live only in the gesture of rejection and negation—but negatively something, at any rate.'
'What are they?—painters, musicians?'
'Painters, musicians, writers—hangers-on, models, advanced young people, anybody who is openly at outs with the conventions, and belongs to nowhere particularly. They are often young fellows down from the University, and girls who are living their own lives, as they say.'
'All loose?' said Gerald.
Birkin could see his curiosity roused.
'In one way. Most bound, in another. For all their shockingness, all on one note.'
WL 59-60
'We might see something of each other—I am in London for two or three days,' said Gerald.
'Yes,' said Birkin, 'I don't want to go to the theatre, or the music hall—you'd better come round to the flat, and see what you can make of Halliday and his crowd.'
'Thanks—I should like to,' laughed Gerald. 'What are you doing tonight?'
'I promised to meet Halliday at the Pompadour. It's a bad place, but there is nowhere else.'
'Where is it?' asked Gerald.
'Piccadilly Circus.'
'Oh yes—well, shall I come round there?'
'By all means, it might amuse you.'
WL 60
In a few minutes the train was running through the disgrace of outspread London. Everybody in the carriage was on the alert, waiting to escape. At last they were under the huge arch of the station, in the tremendous shadow of the town. Birkin shut himself together—he was in now.
The two men went together in a taxi-cab.
'Don't you feel like one of the damned?' asked Birkin, as they sat in a little, swiftly-running enclosure, and watched the hideous great street.
'No,' laughed Gerald.
'It is real death,' said Birkin.
WL 61
VI Crème de Menthe
They met again in the cafe several hours later. Gerald went through the push doors into the large, lofty room where the faces and heads of the drinkers showed dimly through the haze of smoke, reflected more dimly, and repeated ad infinitum in the great mirrors on the walls, so that one seemed to enter a vague, dim world of shadowy drinkers humming within an atmosphere of blue tobacco smoke. There was, however, the red plush of the seats to give substance within the bubble of pleasure.
Gerald moved in his slow, observant, glistening-attentive motion down between the tables and the people whose shadowy faces looked up as he passed. He seemed to be entering in some strange element, passing into an illuminated new region, among a host of licentious souls. He was pleased, and entertained. He looked over all the dim, evanescent, strangely illuminated faces that bent across the tables. Then he saw Birkin rise and signal to him.
WL 62
Suddenly the girl turned to Gerald, and said, in a rather formal, polite voice, with the distant manner of a woman who accepts her position as a social inferior, yet assumes intimate camaraderie with the male she addresses:
'Do you know London well?'
'I can hardly say,' he laughed. 'I've been up a good many times, but I was never in this place before.'
'You're not an artist, then?' she said, in a tone that placed him an outsider.
'No,' he replied.
WL 64
They arrived at a large block of buildings, went up in a lift, and presently a door was being opened for them by a Hindu.
[Heseltine lived at 13, Rossetti Mansions, Chelsea, 1915-16]
WL 73
Gerald looked round the room. It was an ordinary London sitting-room in a flat, evidently taken furnished, rather common and ugly. But there were several negro statues, wood-carvings from West Africa, strange and disturbing
WL 74
XXVIII Gudrun in the Pompadour
She and Gerald, being ready first, set off via London and Paris to Innsbruck, where they would meet Ursula and Birkin. In London they stayed one night. They went to the music-hall, and afterwards to the Pompadour Cafe.
Gudrun hated the Cafe, yet she always went back to it, as did most of the artists of her acquaintance. She loathed its atmosphere of petty vice and petty jealousy and petty art. Yet she always called in again, when she was in town. It was as if she had to return to this small, slow, central whirlpool of disintegration and dissolution: just give it a look.
She sat with Gerald drinking some sweetish liqueur, and staring with black, sullen looks at the various groups of people at the tables. She would greet nobody, but young men nodded to her frequently, with a kind of sneering familiarity. She cut them all. And it gave her pleasure to sit there, cheeks flushed, eyes black and sullen, seeing them all objectively, as put away from her, like creatures in some menagerie of apish degraded souls. God, what a foul crew they were! Her blood beat black and thick in her veins with rage and loathing. Yet she must sit and watch, watch. One or two people came to speak to her. From every side of the Cafe, eyes turned half furtively, half jeeringly at her, men looking over their shoulders, women under their hats.
WL 380
she could not rest any longer in London. They must go by the morning train from Charing Cross. As they drew over the bridge, in the train, having glimpses of the river between the great iron girders, she cried:
'I feel I could NEVER see this foul town again—I couldn't bear to come back to it.'
WL 385-86
[30th May 1922]         Anna von Richthofen   Thirroul
Sydney is a great fine town, half life London, half like America.
LL 4 249
14th June 1922 Aaron's Rod published in USA
June 1922 Aaron's Rod published in England
From Aaron's Rod
VI Talk
"Tell us about yourself, Mr. Sisson," she said. "How do you like being in London?"
"I like London," said Aaron.
Where did he live? Bloomsbury. Did he know many people? No—nobody except a man in the orchestra. How had he got his job? Through an agent. Etc. Etc.
AR 59
The four who were going north went down to the low tube level. It was nearly the last train. The station was half deserted, half rowdy, several fellows were drunk, shouting and crowing. Down there in the bowels of London, after midnight, everything seemed horrible and unnatural.
"How I hate this London," said Tanny. She was half Norwegian, and had spent a large part of her life in Norway, before she married Lilly.
"Yes, so do I," said Josephine. "But if one must earn one's living one must stay here. I wish I could get back to Paris. But there's nothing doing for me in France."
AR 63
VII The Dark Square Garden
Josephine and Aaron dine at 'a restaurant in Soho, one Sunday evening.'
AR 65
They hurried across the Charing Cross Road, where great buses rolled and rocked, crammed with people. Her heels clicked sharply on the pavement, as they walked east. They crossed Holborn, and passed the Museum. And neither of them said anything.
When they came to the corner, she held out her hand.
"Look!" she said. "Don't come any further: don't trouble."
"I'll walk round with you: unless you'd rather not."
"No—But do you want to bother?"
"It's no bother."
So they pursued their way through the high wind, and turned at last into the old, beautiful square. It seemed dark and deserted, dark like a savage wilderness in the heart of London. The wind was roaring in the great bare trees of the centre, as if it were some wild dark grove deep in a forgotten land.
Josephine opened the gate of the square garden with her key, and let it slam to behind him.
"How wonderful the wind is!" she shrilled. "Shall we listen to it for a minute?"
She led him across the grass past the shrubs to the big tree in the centre. There she climbed up to a seat. He sat beside her. They sat in silence, looking at the darkness. Rain was blowing in the wind. They huddled against the big tree-trunk, for shelter, and watched the scene.
Beyond the tall shrubs and the high, heavy railings the wet street gleamed silently. The houses of the Square rose like a cliff on this inner dark sea, dimly lighted at occasional windows. Boughs swayed and sang. A taxi-cab swirled round a corner like a cat, and purred to a standstill. There was a light of an open hall door. But all far away, it seemed, unthinkably far away. Aaron sat still and watched. He was frightened, it all seemed so sinister, this dark, bristling heart of London. Wind boomed and tore like waves ripping a shingle beach. The two white lights of the taxi stared round and departed, leaving the coast at the foot of the cliffs deserted, faintly spilled with light from the high lamp. Beyond there, on the outer rim, a policeman passed solidly. […] Both were watching blankly the roaring night of mid-London, the phantasmagoric old Bloomsbury Square.
AR 69-70
IX Low-water Mark
He came to London and settled in a room over Covent Garden market. The room was high up, a fair size, and stood at the corner of one of the streets and the market itself, looking down on the stalls and the carts and the arcade. Lilly would climb out of the window and sit for hours watching the behaviour of the great draught-horses which brought the mountains of boxes and vegetables. Funny half-human creatures they seemed, so massive and fleshy, yet so Cockney. There was one which could not bear donkeys, and which used to stretch out its great teeth like some massive serpent after every poor diminutive ass that came with a coster's barrow. Another great horse could not endure standing. It would shake itself and give little starts, and back into the heaps of carrots and broccoli, whilst the driver went into a frenzy of rage.
There was always something to watch. One minute it was two great loads of empty crates, which in passing had got entangled, and reeled, leaning to fall disastrously. Then the drivers cursed and swore and dismounted and stared at their jeopardised loads: till a thin fellow was persuaded to scramble up the airy mountains of cages, like a monkey. And he actually managed to put them to rights. Great sigh of relief when the vans rocked out of the market.
Again there was a particular page-boy in buttons, with a round and perky behind, who nimbly carried a tea-tray from somewhere to somewhere, under the arches beside the market. The great brawny porters would tease him, and he would stop to give them cheek. One afternoon a giant lunged after him: the boy darted gracefully among the heaps of vegetables, still bearing aloft his tea-tray, like some young blue-buttoned acolyte fleeing before a false god. The giant rolled after him—when alas, the acolyte of the tea-tray slipped among the vegetables, and down came the tray. Then tears, and a roar of unfeeling mirth from the giants. Lilly felt they were going to make it up to him.
Another afternoon a young swell sauntered persistently among the vegetables, and Lilly, seated in his high little balcony, wondered why. But at last, a taxi, and a very expensive female, in a sort of silver brocade gown and a great fur shawl and ospreys in her bonnet. Evidently an assignation. Yet what could be more conspicuous than this elegant pair, picking their way through the cabbage-leaves?
And then, one cold grey afternoon in early April, a man in a black overcoat and a bowler hat, walking uncertainly. Lilly had risen and was just retiring out of the chill, damp air. For some reason he lingered to watch the figure. The man was walking east. He stepped rather insecurely off the pavement, and wavered across the setts between the wheels of the standing vans. And suddenly he went down. Lilly could not see him on the ground, but he saw some van-men go forward, and he saw one of them pick up the man's hat.
"I'd better go down," said Lilly to himself.
So he began running down the four long flights of stone stairs, past the many doors of the multifarious business premises, and out into the market. A little crowd had gathered, and a large policeman was just rowing into the centre of the interest. Lilly, always a hoverer on the edge of public commotions, hung now hesitating on the outskirts of the crowd.
AR 86-87
The room was pleasant. The fire burned warm, the piano stood open, the sofa was untidy with cushions and papers. Books and papers covered the big writing desk. Beyond the screen made by the bookshelves and the piano were two beds, with washstand by one of the large windows, the one through which Lilly had climbed.
The policeman looked round curiously.
"More cosy here than in the lock-up, sir!" he said.
AR 88
XI More Pillar of Salt
In London he found himself at a loose end. A certain fretful dislike of the patronage of indifferent young men, younger than himself, and a certain distaste for regular work in the orchestra made him look round. He wanted something else. He wanted to disappear again. Qualms and emotions concerning his abandoned family overcame him. The early, delicate autumn affected him. He took a train to the Midlands.
AR 122
XII Novara
Having no job for the autumn, Aaron fidgetted in London.
AR 129
So he found London got on his nerves. He felt it rubbed him the wrong way. He was flattered, of course, by his own success—and felt at the same time irritated by it. This state of mind was by no means acceptable. Wherever he was he liked to be given, tacitly, the first place—or a place among the first. Among the musical people he frequented, he found himself on a callow kind of equality with everybody, even the stars and aristocrats, at one moment, and a backstairs outsider the next. It was all just as the moment demanded. There was a certain excitement in slithering up and down the social scale, one minute chatting in a personal tete-a-tete with the most famous, or notorious, of the society beauties: and the next walking in the rain, with his flute in a bag, to his grubby lodging in Bloomsbury. Only the excitement roused all the savage sarcasm that lay at the bottom of his soul, and which burned there like an unhealthy bile.
Therefore he determined to clear out—to disappear. He had a letter from Lilly, from Novara.
AR 130
29th September 1922              Catherine Carswell     Taos
Well, I'm afraid it will all sound very fascinating if you are just feeling cooped up in London. I don't want you to feel envious. Perhaps it is necessary for me to try these places, perhaps it is my destiny to know the world.
LL 4:313
15th July 1922 L completes Kangaroo
13th September 1923 Kangaroo published in England 
From Kangaroo:
It was in 1915 the old world ended.  In the winter of 1915-1916 the spirit of the old London collapsed, the city, in some way, perished, perished from being a heart of the world, and became a vortex of broken passions, lusts, hopes, fears, and horrors.   The integrity of London collapsed, and the genuine debasement began. the unspeakable baseness of the press and the public voice, the reign of that bloated ignominy, John Bull.
Kangaroo 216
November 1922 L writes 'Taos'
From 'Taos':
Some places seem temporary on the face of the earth [. . .] Some places seem final.  They have a true nodality.  I never felt that so powerfully as, years ago, in London.  The intense powerful nodality of that great heart of the world.  And during  the war, for me, that great heart broke. So it is.  Places can lose their living nodality.  [. . .] Taos pueblo still retains its old nodality.  Not like a great city.  But, in its way, like one of the monasteries of Europe.  You cannot come upon the ruins of the old great monasteries of England, beside their waters, in some lovely valley, now remote, without feeling that here is one of the choice spots of the earth, where the spirit dwelt.
Mornings in Mexico and Other Essays 215
14th December -22nd January 1923 L at 110 Heath St Hampstead.
Then L travels to Germany and France, returning on 26th February 1924
March 1923 publication of 'Taos' in The Dial
[14th December 1923]             Thomas Seltzer          Heath Street
Am here – loathe London – hate England – feel like an animal in a trap.
LL 4:542
17th December 1923                Witter Bynner          Heath Street
Here I am. London – gloom – yellow air – bad cold – bed – old house – Morris wall-paper – visitors – English voices – tea in old cups – poor D.H.L. perfectly miserable, as if he was in his tomb. You don't need his advice, so take it: Never come to Europe any more. In a fortnight I intend to go to Paris – then to Spain – and in theearly spring I hope to be back on the western continent. I was I was in Santa Fe at this moment. As it is, for my sins, and Frieda's, I am in London. I only hope Mexico will stop revoluting. De Profundis DHL
LL 4:546
22nd or 23rd December 1923 Lawrence gathers friends at the Café Royal and tries to persuade them to found Rananim with him; only Dorothy Brett returns with him to New Mexico
24th December 1923    Robert Mountsier      Heath Street
Here I am back in London. It seems very dark, and one seems to creep under a paving-stone of a sky, like some insect in the damp. I don't like it at all. Also there seems a deadness everywhere, in the people, in everything. But that is probably only the change from the brightness of Mexico.
LL 4:550
9th January 1924         Mabel Dodge Luhan Heath Street
I find that here in London they all instinctively hate me: much more so than in America. But that too, in the end, only makes me laugh.
LL 4:556
9th January 1924   L completes 'Dear Old Horse, A London Letter'
From 'Dear Old Horse, A London Letter'
Dear old Horse, you'd never be azure or turquoise here in London.  Oh, London is awful: so dark, so damp, so yellow-grey, so mouldering piecemeal.  With crowds of people going about in a mouldering, damp, half-visible sort of way, as if they were all mouldering bits of rag that had fallen from an old garment.  Horse, Horse, be as hobby as you like, but let me get on your back and ride away again to New Mexico.  I don't care how frozen it is, how grey the desert, how cold the air, in Taos, in Lobo, in Santa Fe.  It isn't choky, it is bright day at daytime, and bright dark night at night.  And one isn't wrapped like a mummy in winding-sheet after winding-sheet of  yellow, damp, unclean, cloyed, ancient, breathed-to-death so-called air [. . .]  And over here the Horse is dead: he'll kick his heels no more […] But a yellow and jaundiced paleness has triumphed over here, the Turquoise Horse has been long dead, and churned into sausages.
 
Mornings in Mexico and Other Essays 137-38
[24th January 1924]    Willard Johnson         Paris
Out of London at last – much nicer here, though Paris seems quiet – and cold but sunny.
LL 4:561
26th February – 5th March 1924 L stays at Garland's Hotel, Suffolk Street, Pall Mall SW1
5th March 1924 L returns to the United States and Mexico, and does not return to London until 30th September 1925
May 1924 'Dear Old Horse, a London Letter' appears in Laughing Horse
31st August 1924         Margaret King            Del Monte
As for Wembley, I don't a bit want to go there. But London can be fascinating.
LL 5 112
[3rd January 1925]      Mollie Skinner          Oaxaca
Frieda writes:
This is to welcome you in Australia, you will have the other half of life again, that you don't get in London – I hope one day you will come and see us at the ranch, I love it […] London to me is a wilderness and rabble, but just a few people!
LL 5 190
[28th January 1925]     Dorothy Brett            Oaxaca
Don't send me any more Murry letters. The smell of that London stink I want no more in my nostrils. I have written Murry also to that effect.
LL 5:206
30th July – late August L stays on and off at 25 Rossetti Garden Mansions, Flood Street, Chelsea, SW3
30th September – 8th October 1925 L stays at Garland's Hotel, Suffolk Street, Pall Mall
8th October 1925        Dorothy Brett            Pall Mall
You were quite right not to come to England: it's much worse than when I was here last time, almost gruesome […] And at the same time, London is so expensive, it makes one's hair stand on end.
LL 5:313
22nd – 29th October 1925 L stays in Gordon MacFarlane's flat, 73 Gower Street, WC1
29th October 1925 L leaves London for Germany and Italy, and does not return until 29th July 1926
July-September 1926 L visits various places in Britain including Inverness, Isle of Skye, Lincolnshire, Eastwood, and Nottingham
30th July – 28th August 1926 L stays at 25 Rossetti Garden Mansions, Chelsea
8th August 1926         Rachel Hawk Flood Street
We have been in London a week: it is quiet, not unpleasant, but I don't really care for it.
LL 5:506
[6th September 1926]             Nelly Morrison          Sutton-on-Sea
I wish you would ask your host if he knows of rooms in Hampstead, or a decent little place where they would take in visitors, and where Frieda and I could go for a week or a fortnight. I don't want to be down in town any more. I wish we could get two rooms in Hampstead, it's healthier there, with meals or without, I don't care.
LL 5:525
16th Sept – 28th Sept 1926 L stays at 30 Willoughby Road, Hampstead, NW3
29th September 1926 Gertrude Cooper        Paris
Paris is warmer than London was when we left – and very much cheaper. I like it very much. The people are quite friendly, life is somehow simpler and more careless.
LL 5:545
23rd September 1926 L visits Catherine Carswell in Parkhill Road, London
28th September 1926 L leaves London for the last time, for Paris, Switzerland, Italy, and France
12th Dec 1926              Willard Johnson         Scandicci
Tonight they're playing The Widowing of Mrs Holroyd in London – the 300 club – and in March they're trying David. Let 'em try!
LL 5:600
13th May 1927            Dorothy Brett            Scandicci
David is being played on the 23rd – and I'm hesitating about going. I may set off tomorrow. But London repels rather than attracts me. I feel much more like moving away towards the fa ends of the wearh, than towards the world's metropolis.
LL 5:55
22nd – 23rd May 1927 David performed at Regent Theatre, London
September 1927 L finishes second draft of Lady Chatterley's Lover
From the second Lady Chatterley's Lover
In London, at the theatre or at people's houses or even in the street, she [Connie] felt the whole influence of all the people dead against her own rhythm, her own slowly-pulsing but vital passion. They seemed dead against it, and she had to sink deep, deep down into herself, to escape them: leaving her social consciousness floating like shallow scum on the surface, for other people. London was far, far worse than the Midlands, than Uthwaite or Tevershall, in spite of the ugliness of these latter. The noise of London, and the endless chatter, chatter, chatter of the people seemed like a death's-head chattering its teeth in a sort of cold frenzy. So many dead people! So many dead ones, masquerading with life!
Second LCL – p.?
5th March 1928 L completes the third and last draft of Lady Chatterley's Lover
From Lady Chatterley's Lover:
But she [Connie] was not happy in London. The people seemed so spectral and
blank. They had no alive happiness, no matter how brisk and
good-looking they were. It was all barren. And Connie had a woman's
blind craving for happiness, to be assured of happiness.
In Paris at any rate she felt a bit of sensuality still. But what a
weary, tired, worn-out sensuality. Worn-out for lack of tenderness. Oh!
Paris was sad. One of the saddest towns: weary of its now-mechanical
sensuality, weary of the tension of money, money, money, weary even of
resentment and conceit, just weary to death, and still not sufficiently
Americanized or Londonized to hide the weariness under a mechanical
jig-jig-jig!
LCL 254  (Published June 1928)
31st May 1928 Enid Hilton comes to London with ten of L's paintings for later exhibition in the Warren Gallery
2nd June 1928 Arthur Olley asks L if he will write an article 'I Do Not Like London Life (and Why?)'
20th August 1928 L sends 'Why I Don't Like Living in London' to Evening News
3rd September 1928 'Dull London!' appears in Evening News
'Why I don't like living in London' [MS title]
It begins the moment you set foot ashore, the moment you step off the boat's gangway. The heart suddenly, yet vaguely sinks. It is no lurch of fear. Quite the contrary. It is as if the life-urge failed, and the heart dimly sank. You trail passed the benevolent policemen and the inoffensive passport officials, through the fussy and somehow foolish customs – we don't really think it matters if somebody smuggles in two pairs of false-silk stockings – and we get into the pokey but inoffensive train, with pokey but inoffensive people, and we have a cup of inoffensive tea from a nice, inoffensive boy, and we run through small, pokey, but nice and inoffensive country, so we are landed in the big but unexciting station of Victoria, when in an inoffensive Porter puts us into an inoffensive taxi and we are driven through the crowded yet strangely dull streets of London to the cosy yet strangely pokey and dull place where we are going to stay. And the first half-hour in London, after some years abroad, is really a plunge of misery. The strange, the grey and uncanny, almost deathly sense of dullness is overwhelming. Of course you get over it after a while, and admit that you exaggerated. You get into the rhythm of London again, and you tell yourself that it is not dull. And yet you are haunted all the time, sleeping awaking, will be uneasy feeling: It is dull! It is all dull! This life is one vast complex of dumbness! I am dull. My spirit is being dulled! My life is dumbing down to London dullness.
This is the nightmare that haunts you the first few weeks of London. No doubt if you stay longer you get over it, and find London thrilling as Paris or Rome or New York. But the climate is against me. I cannot stay long enough. With pinched and wondering gays, the morning of departure, I looked out of the taxi upon the strange dullness of London's arousing, a sort of death, and hope and life only return when I get my seat in the boat-train, and I hear all the Goodbyes! Goodbye! Goodbye! Thank God to say goodbye!
Now to feel like this about one's native land is terrible. I am sure I am an exceptional, or at least an exaggerated case. Yet it seems to me most of my fellow-countryman have the pinched, slightly pathetic look in their faces, the vague, wondering realisation: it is dull! It is always essentially dull! My life is dull!
Of course England is the easiest country in the world, easy, easy and nice. Everybody is nice, and everybody is easy. The English people on the whole are surely the nicest people in the world, and everybody makes everything so easy for everybody else, that there is almost nothing to resist at all. But this very easiness and is very niceness become at last a nightmare. It is as if the whole air were impregnated with chloroform or some other pervasive anaesthetic, that makes everything easy and nice, and takes the edge off everything, whether nice or nasty. As you inhale the drug of easiness and niceness, your vitality begins to sing. Perhaps not your physical vitality, but something else: the vivid flame of your individual life. England can afford to be so free and individual because no individual flame of life is sharp and vivid. It is just mildly warm and safe. You couldn't burn your fingers at it. Nice, safe, easy: the whole ideal. And yet and all the easiness is a gnawing uneasiness, as in a drug-taker.
It used not to be so. Twenty years ago, London was to me thrilling, thrilling, thrilling, the vast and roaring heart of all adventure. It was not only the heart of the world, it was the heart of the world's living adventure. How wonderful the Strand, the Bank, Charing Cross at night, Hyde Park in the morning!
True, I am now twenty years older. Yet I have not lost my sense of adventure. But now all the adventure seems to me crushed out of London. The traffic is too heavy. It used to be going somewhere, on an adventure. Now it only rolls massively and overwhelmingly, going nowhere, only dully and enormously going. There is no adventure at the end of the buses' journey. The bus lapses into an inertia of dullness, then dully starts again. The traffic of London used to roar with the mystery of man's adventure on the seas of life, like a vast sea-shell, murmering a thrilling, half-comprehensible story. Now it booms like monotonous, far-off guns, in a monotony of crushing something, crushing the earth, crushing out life, crushing everything dead.
And what does one do, in London? I, not having a job to attend to, lounge around and gazing in bleak wonder on the ceaseless dullness. Or I have luncheons and dinners with friends, and talk. Now my deepest private dread of London is my dread of this talk. I spend most of my days abroad saying little, with a bit of chatter and the silence again. But in London I feel like a spider whose thread has been caught by somebody, and is being drawn out of him, so he must spend, spend, spend, and all to no purpose. He is not even spinning for his own web, for his own reasons.
So it is in London, at the luncheon, dinner, or tea. I don't want to talk. I don't mean to talk. Yet the talk is drawn out of me, endlessly. And the others talk, endlessly also. It is ceaseless, it is intoxicating, it is the only real occupation of us who do not jazz. And it is purely futile. It is quite as bad as ever the Russians were: talk for talk's sake, without the very faintest intention of a result in action. Utter inaction, and storms of talk. That again is London to me. And the sense of abject futility and it all only deepens the sense of abject dullness, so all there is to do is to go away.
[Late Essays and Articles 120-122]
14th June 1929 Exhibition of Lawrence's paintings at the Warren Gallery opens with a private view; it closes in September
[19 July 1929]           Earl, Achsah and Harood Brewster   Lichtenthal
I suppose you heard my picture show was raided in London – after over 12,000 people had been to it – and the police seized 13 pictures as being obsence – which pictures now lie in gaol under threat of being burnt.
LL 6:379
7th August 1929         Giuseppe Orioli         Lichtenthal
I've done some nice stinging nettles, and let's hope they'll sting the arses of all the Meads and Persians of slimy London.
LL 6:411
23rd August 1929        Maria Chambers        Florence
I have managed to have published in London, sub rose, an unexpurgated edition of the Pansies, 500 copies at 2 guineas. These are all safely sold.
LL 6:440
2nd March 1930 D.H. Lawrence dies.