D.H. LAWRENCE LONDON GROUP
WHAT IT IS
The Lawrence London Group – which is part of the D.H. Lawrence Society – meets monthly in central London in order to discuss Lawrence's works, in particular in their application to the present.
It is convened by me Catherine Brown (a Vice-President of the D.H. Lawrence Society) and hosted at my College (New College of the Humanities).
Though the members are often encouraged to read a work or works by Lawrence in advance of a given meeting, it is not necessary to do so. Nor is any commitment required; it is in the nature of a group meeting in London that its membership is somewhat mobile. 'Membership' consists simply of having one's email on the group's email list, and in coming whenever one would like to and can.
PRACTICALITIES
Venue:
New College of the Humanities, 19 Bedford Square, London, WC1B 3HH, UK (nearly opposite 44 Bedford Square, formerly the home of Bloomsbury patroness Lady Ottoline Morrell, a friend of Lawrence's).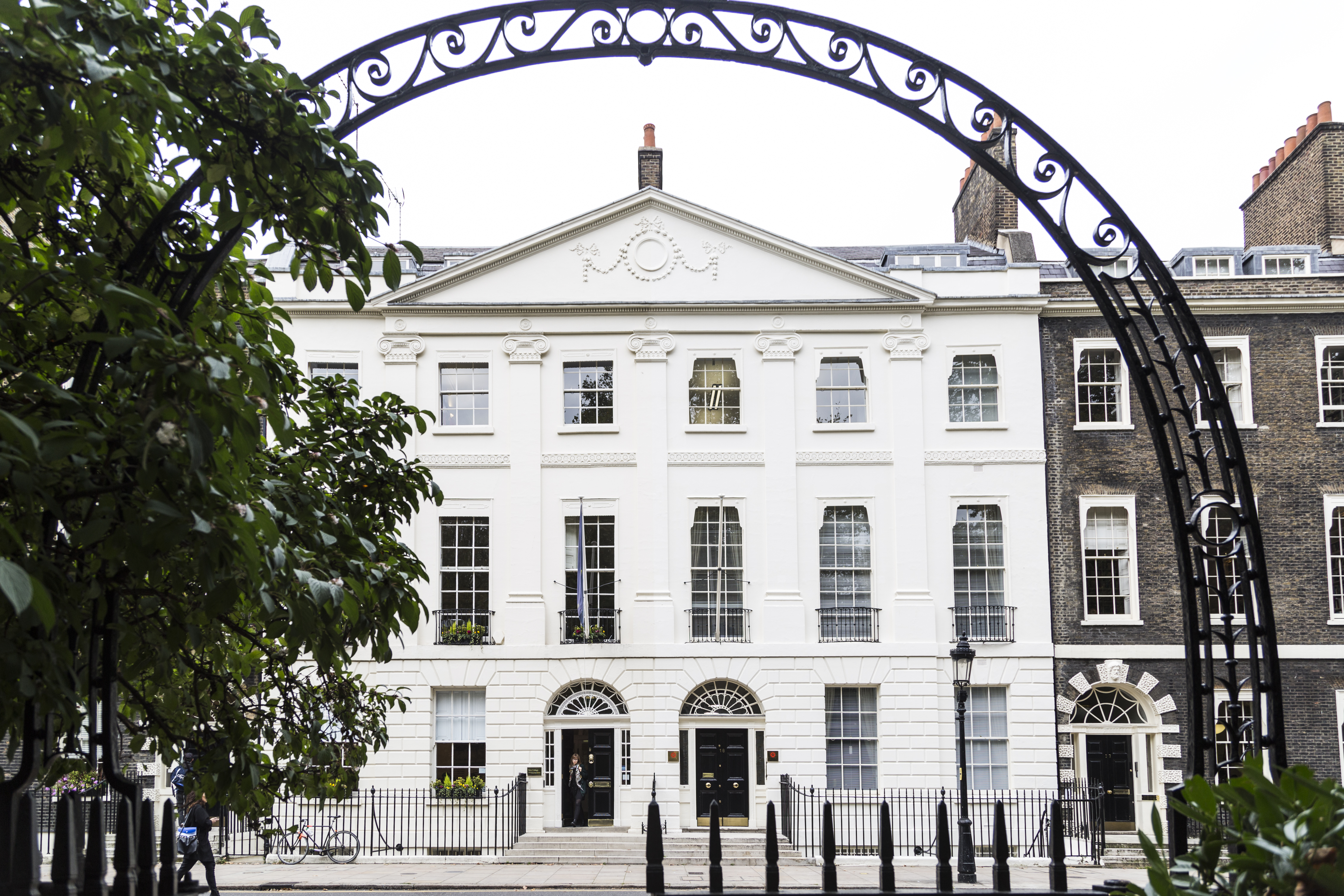 Accessibility:
19 Bedford Square is a Grade 1 listed building, and no lifts may be added to it. Meetings are often held on the second or third floor. Do let me (Catherine) know, at catherinelawrencelondon@gmail.com, if you have any mobility requirements, and if so whether you would like assistance in negotiating the stairs, or whether you would like number of stairs involved to be minimised by meeting on the lower ground floor (unfortunately they cannot be eliminated; there are stairs up to the front door, and a few more down to the lower ground floor – but other members will be happy to assist with wheelchairs as required).
Dates:
Meetings are on a Thursday or Friday, in the second half of each month, between September and June.
For dates for the current year, see 'Programme' in the side bar to the left.
Time:
6.30-8.30 pm (arrive between 6.00 and 6.30 pm)
Travel:
The nearest stations to the venue are Tottenham Court Road (Northern and Central Lines), Goodge Street (Northern Line), Russell Square (Piccadilly Line) and Euston and King's Cross train stations.
Upon arrival:
Please ring the front doorbell if arriving before the scheduled start time of 6.30 pm.
If arriving after 6.30 pm, please call me (Catherine) on my mobile phone (the number shared with members through the group email list).
Cost:
Members are asked to contribute £2 per meeting towards the cost of refreshments.
ABOUT
The Group operates as part of the D.H. Lawrence Society of the UK. The Society's meetings take place for the most part in Lawrence's home town of Eastwood near Nottingham. This Group is an extension of the Society's activities to the South of England. Members of the Group are encouraged to (but are not required to) join the Society.
A previous London Lawrence group existed between 1988 and 1992 and, like the current one, met in Bloomsbury. Members of the current Group who were also members of the former one include Jane and Dudley Nichols and Stephen Alexander.
Activities of the current Group may include hearing a presentation by a member, followed by a discussion; reading Lawrence's works out loud; watching film adaptations of Lawrence works; visiting relevant places; and social events.
WHO CAN JOIN
Anyone who is interested in Lawrence's works. Many of the current members are academics or students; many are not.
HOW TO JOIN
Email me, Catherine Brown, at catherinelawrencelondon@gmail.com, in order to be added to the Group's email list.
WRITE-UPS
All meetings are written up by me (Catherine) unless otherwise stated. Those present at a given meeting have the opportunity to make additions or corrections before they appear on this website (please see the sidebar to the left).